Earth and Elm Nourishing Face Oil for ONLY $26! That is a savings of 46% ($22)

There is no better time of the year to NOURISH your face!

There is no better time of the year to NOURISH your face!
Winter months are rough on skin—especially your face! Dry, red patches of skin are not only painful, but can lead to breaks in the skin...even fine-lines wrinkles over time. That is why it is SO IMPORTANT to naturally nourish your skin EVERY DAY!

Made from an infusion of nine different organic essential and botanical oils, Earth and Elm Nourishing Face Oil is flawlessly balanced for the skin on our face. This remarkably light-weight oil sinks gracefully into the skin, naturally providing the ideal equilibrium of healing and support for glowing, radiant skin.

Give yourself a radiant, nourished, happy face without the harsh chemicals!
A radiant, happy face without the harsh chemicals
Earth and Elm Nourishing face oil provides instant results as it penetrates deep into the skin for a sudden hydrating glow. Unlike heavy creams, our Earth & Elm Face Oil is lightweight and nourishes the skin with natural botanicals, vitamins, minerals, antioxidants, and essential oils.
We purposely emphasize the purity of our ingredients and the overall simplicity of our formulas because we know nature creates the best products. All of our formulas are designed with ingredients found in nature, preserved in their purest form. Our products are designed to support the body's natural function and promote healing. By avoiding the use of foreign ingredients like synthetics and chemicals that the body sees as harmful invaders, All Earth & Elm products work harmoniously and synchronously with the body.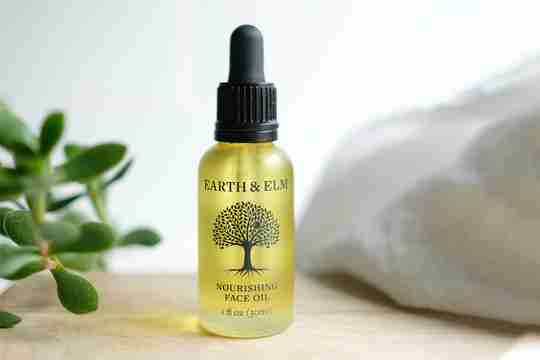 Earth & Elm Nourishing Face Oil

A LIGHTWEIGHT OIL THAT PROVIDES A SUDDEN HYDRATING GLOW

Earth & Elm is for the health conscious person seeking a chemical-free skincare solution. Our face oil is derived from nature in its purest form and works in harmony with your body for optimal appearance.
100% organic ingredients -- essential oils and botanical oils only
Made from over 90% cold-pressed oils to preserve nutrients, vitamin and minerals
Reduces appearances of blemishes, fine lines, wrinkles, age spots, spider veins, and discoloration.
Pores appear smaller, giving the appearance of smoother, more radiant skin complexion
Cleanses the pores of dirt, bacteria and impurities while moisturizing and toning for glowing skin
Fresh citrus aroma
For all skin types -- absorbs quickly into your skin
Lightweight
Free of all chemicals, synthetics, parabens, phthalates, fillers and additives
From a natural viewpoint nothing works better than Earth & Elm Nourishing Face Oil.
Handcrafted in small batches to retain freshness and create the purest product possible.
This multi-functional face oil is a skin super food that is loaded with antioxidants, nutrients, minerals, and is rich in vitamins E & K.
Experience for yourself the powerful and effective results - you won't be disappointed.

Saves you time, money, and is convenient while traveling.
Risk free 90-day, 100% money-back guarantee
Shelf life: 13 months
Looking for more ways to use Earth & Elm?

7 Unexpected Ways to Use Nourishing Face Oil

Face oil has swiftly become a trend that is here to stay. Used by top makeup artists for years, face oil provides instant results as it penetrates deep into the skin for a sudden hydrating glow. Unlike heavy creams, our Earth & Elm Face Oil is lightweight and nourishes the skin with natural botanicals, vitamins, minerals, antioxidants, and essential oils. The natural ingredients make this product multifunctional as it moisturizes and cleanses the pores of dirt, bacteria, and impurities for silky, radiant skin. The best part is, this one product can replace most skincare products you own!

Are you ready to get the most out of your skincare routine? Read on for our top ways to use our Nourishing Face Oil.

Cleanser
Cleansing with our Nourishing Face Oil is gentle enough for sensitive skin yet powerful enough to remove dirt, bacteria, and buildup. For best results, apply oil on damp skin over your face and neck. Take a warm, wet washcloth and drape over the face until cooled. Lightly pass the washcloth over the skin, gently wiping away dirt, makeup, and excess oil.
Moisturizer: Apply 2-4 drops of oil on damp skin over your face and neck. Repeat every morning and evening or as often as needed.

Toner
Using a toner should be a staple in everyone's skincare routine, which is why we love using this oil. It does precisely what a toner should do and so much more. Toners help remove excess dirt, balancing the pH of your skin, and cleaning and closing pores. This face oil offers the astonishing benefits of a toner without the extra steps. For acne prone skin, the orange oil contains antibacterial properties for a little extra help in keeping your skin clean and healthy.

Moisturizer
It's no surprise that face oil has become the new moisturizer, as more women are learning the benefits of natural oils over heavy creams. To hydrate skin, apply 2-4 drops of oil on your damp skin over your face and neck. Use morning and evening for quick hydration.

Shave
Irritated skin during and after shaving is the worst. For people with sensitive skin, our entirely organic face oil will make all the difference in your shaving routine. Unlike creams and gels that irritate the skin, face oil soothes the skin and helps your razor glide more easily to prevent chafing, razor burn and cuts. To shave using our oil, dampen the skin, apply the oil to the face and neck, shave, and rinse off. You can also use the oil as an aftershave to protect skin as the lemon oil has antiseptic properties. Reapply a few drops for a little extra hydration.

Serum & Eye Cream
You can now ditch all of those expensive serums with this one simple product. The orange oil is your new vitamin C serum for anti-aging and damage repair as it smoothes and brightens your complexion. If you struggle with puffy or dark circles under your eyes, this is the perfect alternative to your eye cream. The vitamin C produces collagen and soothes puffiness for a well-rested appearance. Since our face oil also contains almond oil, you can use it as a B7 (Biotin) serum. This vitamin is known to produce fatty acids to nourish the skin as well as assist in cell production for a clear and balanced appearance.

Breakout Treatment
Sometimes it seems as though a breakout comes out of nowhere. Whether you're feeling a breakout coming on from stress or a bug bite from your latest camping trip, this face oil soothes it all. The powerful antimicrobial properties of the lemon oil treat skin conditions, insect bites, acne breakouts, and more while the antioxidants heal damaged skin.

Tame Hair Flyaways
If your hair is frizzy and won't cooperate, take a few drops of oil, mix it in your hands, and lightly smooth it on to the ends of your hair or the problem areas. It will tame flyaways while giving your hair the nourishment it needs.

"I love using this product, it feels so good and smells delicious. It is definitely like a spa day since it takes a little time to sink in, and feels great. And the customer service (especially from Kelly) is awesome!

But the most amazing thing is the result of noticeably reduced redness from rosacea on my face, neck and chest. Nothing that dermatologists could do helped even a tiny bit!

Since it's been red on my chest longer than my face that is taking more time, but when I noticed a couple of new red spots on my knuckles, I've been using it there too, and that redness is also reducing.

I started getting these results on my face in a relatively short time (about 2 or 3 months), and in the beginning I continued using it to combat dry skin which it helps immensely too.

I'm not sure of the results anyone else may get, but this has been a lifesaver for me and I'm hoping and believing it will work on my chest over time as well.

So happy to be on the autoship program (which is very flexible, by the way). Thank you for this fabulous product! "

—Melody H.
"I have tried a million 'natural' oils and they're either too greasy or don't have safe ingredients. These oils have the most delicate fragrances, soak in quickly and most of all no toxins. Great discovery that I made by accident by ordering dental hygiene products by this company."
—Joni
"I don't know where to start. This face oil not only cleans and moisturizes my face - it literally feels like I am treating my self to a spa day. The oil is light weight and easy to apply. It leaves my face feeling soft and happy. I have used it to replace my toner, eye serum, and night cream. I still wash my face, but this does the rest. I use it at night - but also as my daily moisturizer. It is perfect for under my foundation (which is a big deal to me-I don't like overdoing moisturizer). The fact that it is organic is important. I have spent the last year switching to "clean" makeup products. This it the perfect addition. So thankful I found it."

—Stephanie K.

"I have been using Earth & Elm Nourishing Face Oil for a few months now and absolutely LOVE it! I must admit that at first I was skeptical that this one product could replace the many steps that I had become accustomed to in my skin care regime but that couldn't be further from the truth. The oil is lightweight and smells great and not only cleanses my face but leaves it moisturized without feeling greasy. I have areas of hyper-pigmentation and those dark spots are fading. My complexion is overall brighter and clearer but the most noticeable change I see is the minimization of my pore size, especially on my nose. My hairdresser even asked me if I was doing something different with my skin! As a breast cancer survivor, I appreciate the fact that the oil is composed of certified organic ingredients. Try this product. You won't be disappointed!"

—Elizabeth T.
"I had a lot of sunpots and freckles on my neck and chest. Also my skin got older on that area compared to my face because of sun burns I had for many years. I used this product not for my face but on my neck and chest. The results were amazing. Almost all the freckles and sunspots have dissappeared. My skin looks a lot younger than it used to look. I definetely recommend it."
—Ebru T.
"I have been using this product over 10 years n highly recommend it to others, especially after recieving compliments that I appear younger looking than my actual age! Thank you, THP for ALL your products & great Customer Service always."

—Lori