OraMD – The Mouth Doctor
(149 customer reviews)
Fight plaque and tartar, eliminate bad breath, and support healthy teeth and gums…without the chemicals.
The Superior Revolutionary 100% Pure Liquid 3-in-1 Toothpaste, Mouthwash and Breath Freshener with Strong Antibacterial Properties

"OraMD is the only oral care product I endorse."
- Dr. Tom McGuire, DDS, Best Selling Author and World's Leading Authority on Preventive Dentistry.

Naturally fights cavities, bad breath and problem-causing bacteria in 4 simple steps: Brush, Floss, Rinse, Refresh.
Use as a 3-in-1 toothpaste, mouthwash and breath freshener
Recommended by Dentists Worldwide
Cheaper than Crest Pro-Health products – save up to 39%
100% Pure Ingredients killed Periodontal Bacteria in New Clinical Study
One Full Year, 100% Money Back Guarantee – No Questions Asked

- OR -
"You know what I love? When I am somewhat skeptical of a product, I try it and am blown away! That is exactly how I would describe my reaction to OraMD… I was instantly sold on this product."
Carrie Wells, Ed. D.
Tamarac, FL
huppiemama.com
"In just a few days, I found myself using this OraMD liquid toothpaste instead of the regular caulk-textured toothpaste products. This product has earned a permanent place in my home, and I think you'll feel the same once you try it."
Mike Adams
The Health Ranger
Naturalnews.com

"I just had MY ORAMD MOMENT. I had my annual cleaning and the hygienist said my gums have never looked better."
Carl Lanore
Host/Founder
Super Human Radio
FEATURES and BENEFITS
OraMD is the revolutionary, 100% pure and natural liquid toothpaste, mouthwash and breath freshener with ingredients that kill the 22 harmful bacteria that lead to gum disease and other oral health problems. When combined with our 4 Step Daily Oral Hygiene Program (link to 4 steps tab), you'll be empowering your mouth with the best tools needed to regain and sustain your oral health.
Pure Ingredients – 100% Natural Almond, Spearmint and Peppermint Oils
Ingredients help create a healthy environment in your mouth
Has interdental access, so it gets in between your teeth and those hard-to-clean areas
Leaves a fresh and clean feeling unlike anything you've ever experienced
Ingredients polish teeth
Safe and effective for everyone ages 3 and up
May taste a little stout for the first 3-7 uses
Safe for braces, veneers, bonds, crowns, fillings and dentures
Faster Results
Most Powerful Formula
Most Aggresive at Killing Bacteria
Best for more serious conditions: Advanced Gum Disease, Periodontitis, Loose Teeth, etc.
convenient to carry in your pocket or purse, and can be used anytime to keep your mouth fresh and clean
Manufactured in the USA by Trusted Health Products
Vegan
Not tested on animals
One bottle lasts a month using our 4 step process (2 drops per application)
Quantity Discounts
Costs 39% less than other gingivitis-fighting products like Crest Pro Health toothpaste + mouthwash (based on OraMD 3-Pack)
Using the OraMD 4-Step Oral Hygiene Program could prevent expensive oral care costs in the future
One Year, 100% Money Back Guarantee, no questions asked
Over 99% customer satisfaction
Ships same day if ordered by 3:00 PM EST, Monday – Friday
24/7 Representatives available to take orders over the phone – 1.888.423.7500
Main office customer service available 8:30am – 9:00pm EST (-5:00GMT), Monday-Thursday; 8:30am-5:00pm EST (-5:00GMT), Friday.
OraMD 5 Step Oral Hygiene Program
---
Step 1 – Brush twice a day in the morning and evening using 2-5 drops of OraMD on a toothbrush and brush normally. Do not swallow.
Step 2 – Floss every evening before brushing – more frequently as needed. Get any food particles out from between teeth.
Step 3 – Use OraMD as mouthwash twice a day: morning and evening. Just put 1-2 drops into an ounce of water, swish and gargle. This is important to kill the bacteria in the entire mouth including the back of tongue.
Step 4 – Mid-morning, mid-afternoon and as needed: put 1-2 drops on the tip of the tongue to coat the gum line and teeth to kill bacteria and keep breath fresh. Care Instructions: Avoid Eye Contact, Do not swallow, Do not use while pregnant or breastfeeding.
Step 5 – Follow the oral hygiene instructions provided by your dentist and hygienist, and have regular dental cleanings and checkups.
OraMD cleans and polishes teeth but does not contain a whitener. If you need to whiten your teeth, you may want to use baking soda and hydrogen peroxide 2 to 3 times per week. A whitening toothpaste can be used 2 to 3 times per week but because of the chemicals in toothpaste you need to rinse extremely well and coat gums with OraMD after any whitening.
OraMD is safe and recommended for children age 3 and older with no allergies to peppermint, spearmint and nuts. Start with 1 drop of OraMD diluted with 5 drops of water. Care Instructions: Avoid Eye Contact, Do not swallow, Do not use while pregnant or breastfeeding.
OraMD is strong the first several times you use it, this is the product working and this will subside. Keep OraMD out of direct sunlight and always put the cap back on after use to preserve potency.
If you use an oral irrigator, be sure to flush the irrigator with medium hot water for 20 seconds. Use nylon toothbrushes and avoid plastic toothbrushes. Avoid using foam cups – polystyrene plastics will not hold up to the menthol in this product
INGREDIENTS
Peppermint Oil This 100% natural botanical oil is a proven natural combatant to many types of the bacteria in your mouth. Since OraMD is an oil, it does not dry out your mouth like toothpaste and mouthwash can because it is not alcohol based. The oil seeps between the gum line and attacks your bacteria even while you sleep and provides additional support to fight dry mouth. Dry mouth causes the bacteria to multiply at an accelerated rate and must be controlled for good oral hygiene.
Spearmint Oil We use only the most potent and powerful species of all our botanical oils and our spearmint oil is no different. Like the peppermint oil, spearmint oil fights the 22 known harmful bacteria in your mouth, but when the two are combined they make a synergistic and powerful product.
Almond Oil By using OraMD, with its almond oil you'll be allowing your mouth to have the bacteria control you need for your mouth to heal itself. Almond oil provides just the right base for peppermint and spearmint.
100% pure peppermint, spearmint and almond oil
Unique proprietary formula
OraMD's peppermint oil has potent anti-bacterial properties
OraMD's spearmint oil has potent anti-inflammatory properties
Flouride-free
Alcohol-free (alcohol is known to cause dry mouth)
Contains none of the harsh chemicals found in toothpaste
REVIEWS
"Yes, I did recieve my order. And let me tell you, I'm a happy camper. Your product is amazing. I have new confindence in myself. I'm happier and more carefree. I'm not afraid to talk to people now."

Thank you so much,

- Reginald S.
Fort Collins, CO
"I'm 26 years old w/fairly straight teeth and no cavities. However, I hadn't gone to the dentist in 4 years! I didn't have health insurance from my employers unfortunately. Well, by this time, my gums were swollen and inflamed…especially on my upper front teeth …Toothpaste was actually aggravating my gums more than helping it. I then tried baking soda-an older neighbor told me that it 'works'-but it didn't work for me at all.

I did an online search and came to OraMD and read that it has natural oils that coated the gums and tooth and killed bacteria in the mouth, as opposed to brushing it away. I ordered my first bottle and received it withing two days. I used it twice daily for three weeks, returned to my dentist, and she literally screamed-she was so surprised at how much my teeth and gums had improved. The swelling had gone down significantly-and she even asked me if I used any whitening strips on my teeth b/c I had such a "nice sunshine smile"-I told her "no, only the OraMD!".

After about 2 1/2 months of use, my teeth and gums are perfect and white, and I actually look forward to brushing my teeth in the morning and at night-I can really feel the OraMD working after I use it, and it tastes nice and pepperminty.
Hope this helps!

And thanks for providing OraMD-I really love this stuff-it's proof that nature really provides solutions- as opposed to chemicals and harsh abrasives that so many people believe are working for them. "

- Liz D.
Shreveport, LA
"Hi there,
I have been using OraMD now for about 2 months and it really has made a difference to my gums. … Since using OraMD I have almost no bleeding gums now when flossing or cleaning. I am absolutely amazed and pleased. I will be ordering some more soon as I want my family to try it too. I will be interested to see what the periodontist has to say on the next check up."

- Lyn A.
Pittsburgh, PA
"Hi, Scott…I must say that your product is extraordinary…leaves my mouth with an exceptionally clean, fresh and healthy feeling…I believe it's improved the health of my gums and moutn in general…I love it and…I'd recommend it to anyone…thanks for
a great product!"

- George U.
Charlottle, NC
"My breath felt fresh, my gums looked healthy and my teeth felt clean. I have never had a cavity in my life and I trust OraMD to help me maintain that record."

- CHARISE ROHM NULSEN
Sudbury, Mass.
"I think oramd is a very good product and I would recommend it to anyone with gum problems as a matter of fact I have told my own children about it.
So far using oramd has proven to be very helpful and makes my gums and teeth feel great, I will be reordering soon.
Thanks"

- Dan F.
Fredericksburg, VA
"Actually I have been meaning to let you know how much I like your product… my gums no longer bleed or swell up and my sensetivity to cold has deminished. I liked OralMd enough to reorder 4 more bottles. It is a little intense at first, but I love the results."

Sincerely,
- Robin S.
Oklahoma City, OK
"This is the tenth bottle we have ordered. Every bottle we have ordered gets here in about three days, which is faster than regular mail. We are very happy with the product, which has saved my teeth so far. I had very lose bottom teeth, but after using ora-MD they have firmed up dramatically. …Thanks again "

- Terry and Laurie
"I am writing to you to tell you how wonderful this company and this product is. I have been very impressed with the contact you have kept with your customers, sending emails to help improve their help and showing your latest findings.
But that is not the main reason I am writing. My mother has only had OraMD a week, and it has already helped her so much. She thought she had gums beyond any repair and I cannot begin to tell you how extensive her fear of the dentist is. The condition of her gums created such a deep depression in her that it would just tear me apart. In only week, she says her gums feel tighter and I can see that they are already pinker. She is already planning to order another bottle ASAP and never wants to be without it again.
God bless you."

- Cindy G.
Chicago, IL
"I love OraMD and so do my kids. I had sore gums …I started to get a bad odor in my mouth and I wanted something that really worked. I have been using OraMD since August and I will NEVER go back to toothpaste. My gums no longer hurt and no longer bleed, and my mouth feels fresh all day.

I love the product."

- Janell F.
Grand Junction, CO
"I love OraMD. I like the convenience of it and how easy it is to use. It's small and fits in my bag. It leaves my mouth feeling clean and refreshed."

- Krista Wolfe
Sun Valley, Nevada
"I HAVE BEEN USING YOUR PRODUCT NOW FOR ABOUT 3 MONTHS. WHEN I FIRST ORDERED IT, IT WAS JUST BECAUSE NOTHING ELSE SEEMED TO WORK. MY DENTIST ALWAYS TOLD ME I WAS NOT DOING A GOOD JOB BRUSHING AND REMOVING THE PLAGUE. I HAVE NOT HEARD THIS SINCE I STARTED USING ORAMD. IT'S GREAT!!!!!!"

- Renee P.
Atlanta, GA
"Hi. My wife and I have been using OraMD for a little over a month now. We like the way it feels after brushing, and I have no more plag deposits on the inside of my lower teeth. This has never happened before, and needless to say, I am very pleased with
that. We just placed an order for more product. Thank you. "

- Helmut and Anna W.
Oshkosh, WI
"Since I started using OraMD back in June my gums feel & look 100% better the bleeding has stopped…my gums where so bad that they would bleed while
brushing and after flossing, now I can floss and no sign of bleeding. I had a area of my mouth that when I sucked on that area I would pit out blood not anymore!!! I try to use OraMD two or three times a day, I just started keeping it in my pocket as a reminder. I use it as a breath freshener
during the day just drop one or two drops and it really freshens."

Best Regards,
- Early T.
Temple Hills, MD
"…my gums are not bleeding and it has helped with my bad breath problems. If you have any doubts try the product and see for yourself, you have nothing to loose and everything to gain. I will be ordering more when mine runs out."

thanks,
- Joyce G.
Ocala, FL
"…After a few weeks of using ORAMD my sensitivity was gone and I was able to enjoy sugary desserts again pain free. When the bottle was empty I decided to try a toothpaste for sensitive teeth again to see what would happen and within a few days my gums were red, bleeding a little, and sensitive again. I have ordered another bottle and look forward to receiving it. One thing I did not like is that my teeth started looking brown after a few weeks. I used whitening toothpaste once in a while and that seemed OK."

- Sharon A.
Phoenix, AZ
"I put a few drops of OraMD on my toothbrush and found it to be very refreshing. It's a different kind of clean than regular toothpaste. I like it much better!"

- Kathy Marrocco-McLaughlin
Oakland Township, Michigan
"i must say, oramd has been working very well. it has not cured my gum desease due to the late stage, but it has prevented it from becoming any worse,and thats fine with me. its almost done, so i should be reordering soon. thanks for the great product, an im sure that their are many other satisfied customers out there. thanks again. "

- Joseph. A.
Bronx, NY
"I must say that I am well satisfied with the OraMD I recently bought. I have been using it for a little over two weeks and I can already see improvement to my gum and …I am sorry that I did not know about this earlier.
Thanks and keep up the good work. I will always be using this product."

- Glessie R.
Winter Haven, FL
"I found your product on the internet. I was looking for something natural that would help my sister and I. We both have problems with our gums. My gums always seemed puffy or red. My mouth never felt clean. Even after I brushed and flossed. So, I tried your product. It was amazing. I couldn't believe how clean my mouth felt. The puffiness has gone down. My gums are the healthiest they have ever been. (I'm 34 years old!) I hated going to the dentist. Even for a cleaning, because the exam would cause my gums to bleed. My last cleaning went great! No bleeding, and the hygieneist said my gums looked good!!!!!!!!!!!!! I have my sister and my mom using it. We are customers for life!!"

- Yolanda H.
Miami, FL
"I have been using OraMD for two months now and can see a marked differenc in my whole mouth. My gums are a healthy pink color, decrease in bad breath (minimal to nonne) whiter teeth, and less plaque based on my last dental cleaning visit."

- Veronica J.
Chicago, IL
"I once ordered the OramD toothpaste and found it to be very helpful for my bleeding gums and all that was going wrong for my teeth. OramD started to make an impressive improvement until it ran out. I couldn't make contact to order more because from this part of the world we constantly face power problems which results in us not having access to the internet/email. I have just got my problems fixed and have been trying to order 3 bottles at the discounted price as advertised on your website. "

- Grace B.
Paraguay
"I have suffered with bad breath … I read and heard about OraMD (don't ask where, I don't remember) and decided to give it a try.

For the first three bottles, I used it only once a day and then brushed my teeth two other times with mouthwash. I still had some bleeding gums when I flossed though and the bad breath did not go away completely.

I decided to follow the instructions and use the OraMD twice a day, a gave up toothpaste and mouthwash completely. I have been doing this for over a month now.

My wife no longer complains about my breath and we are more intimate. My gums are firm and no longer bleed when I floss, even when I am rough and scrap the gums hard with the floss.
I now keep a bottle at work, in my travel kit and at home.
I am a firm believer in this product."

- Don J.
Houston, TX
"…My breath smells great and my teeth are improving as well as my gums. I want to thank the whole staff for inventing this wonderful product and I feel so much better. I finally found something that works and helping me, thank you so much and I would definitly recommend this product and I am going to be a customer forever, it's the best!"

- Jacklyn R.
Baltimore, MD
"OraMD is going to make your teeth stronger, your gums healthier and it has all-natural ingredients!"

- Marjorie Mora
Vacaville, California
"I just wanted to update you on my OraMD experience. When I first started the product I had sensitive, bleeding gums(during cleanings) …Well, I am elated to tell you that my dentist said I had excellent gums. They were able to clean my teeth without the use of topical anaesthetic—(oh yeah, I was that bad). Having my teeth cleaned did not hurt me at all.
So, thank you, thank you, thank you for putting out such an amazingly effective product."

- Dahlia S.
Douglasville, GA
"Just wanted to say my brother started to use ORAMD the same day he received it. He has gum disease and his gums are receding. Well, for the past two weeks that he has been using it, his gums appear pink, not red anymore, his breath smells better, his gums are not bleeding when he brushes, but his gums hurt. He uses a soft brush an using only ORAMD, should he floss? His gums hurt and is afraid to floss. But there is an improvement with the color of his gums.

I was curious about the product, so I am using too. I get canker sores often, and let me tell you, I put a few drops on my canker sore and it didn't hurt or bother me. I also notice that when I brush now, my gums don't bleed and my breath smells good.

We have been using the product for about two weeks now and already want to order more. I will be ordering soon. The product is great. At first, it didn't taste all that great. It felt so strange not using tooth paste or listerine, but two days into using ORAMD, I love the taste, the clean
feeling, and great breath. We haven't used toothpaste for two weeks and our gums are more healthy than ever."

- Miriam T.
Treister, PA
"I love your product. And would be happy to give any testimonials you need or desire. Although I have always been very healthy and aggressive in my oral care, I feel this is the best product I have ever found in my 50 years on this planet. Good luck to you and yours."

Sincerely,
- Gloria W.
Nashville, TN
"Your product is fantastic. I was about to go to a perio specialist when I placed an order for your product. My gums are now …and pink and healthy. my teeth do not hurt and they are solid. Positivley no bleeding when bruching with my electric toothbrush. Why will a dentist not tell you about this stuff? Your product really does everything you say it will do.
Thanks"

- Norm S.
Austin, TX
"Yes, indeed it arrived and I love it! …and I think it's sort of … tightening everything up. I bought three bottles which will last me a while, but I'm definitely a fan. I've told some friends so maybe they'll be order too."

All the best,
- Margaret G.
Miami, FL
"I would suggest OraMD to anyone seeking all-natural dental products – that are really all-natural and GMO-free. I would also recommend it as an option for those struggling with periodontal concerns."

- A.J. Thompson
Reynoldsburg, Ohio
"For a fact, my gums are now in a finer state of health because of my use of your product.
My gums no longer bleed as a result of bushing my teeth.
I feel better because my mouth is in better health. Also, my breath is no longer offensive to me or anyone around me.
On March 2, I shall return to my dentist for an evaluation. I will be happy to tell you the results."

Sincerely
- Jerald C.
Houston, TX
"Thank you so much for your great product, Oramd is the first thing I've tried that worked almost immediately to get rid of the bad breath I was suffering. I've been using it now for 3 weeks and the difference is remarkable. Thank you once again."

Sincerely
- Debra B.
Waterloo, IL
"What can I say about Oral MD other than the fact that it works very well. At first it had a bitter taste but after using the product for a couple of weeks the taste became rather pleasant. My gums had been bleeding on and off these last few months but after using Oral MD for about three weeks the bleeding has almost totally stopped. I would certainly recommend this product to anyone is fighting to save their teeth."

- Russ K.
London, England
"I was diagnosed with periodontal disease several years ago. I had the surgery on my gums. But ocassionally, my gums still bleed. I was introduced to ORAMD brother who gave it to me as a gift for Christmas. After having used the product for a few days, the bleeding has disappeared. I have now been using the product for almost two months and there has not been any evidence of bleeding gums.

I love the product. It is so refreshing to my mouth. I use it not only as my toothpaste, but to freshen my breath and to gargle. It has been a pleasure to use it. Thank you for the development of such a worthy product."

- Veronica J.
Chicago, IL
"Your product is fantastic. …Positivley no bleeding when bruching with my electric toothbrush. Why will a dentist not tell you about this stuff?
Your product really does everything you say it will do
Thanks"

- Norm S.
Austin, TX
"Thank you so very much…Actually I have just used this product for 2days only and already I can see and FEEL the improvement…I was hesitant, but wow, I love it…thank you soo much in helping resolve my dilemma."

- Name Withheld
"I love how OraMD made my teeth feel after I used it. I also like that I didn't have to use mouthwash afterward because this does it all. This makes the process of brushing your teeth so much easier because you don't have two or three products."

- Margaret Tidwell
Riverton, Utah
"Yes I received my order – I have been using the OraMd for 3 days now and I CANNOT STRESS enough the difference I feel in my mouth!
My next dentist appt is scheduled for June (which will be 3 months of using the OraMD) I cannot wait to see what he has to say (I havent told him anything!)
Thanks for following up !"

- Livia M.
Concord, Ontario
"Yes, I received my order. I love this stuff! I just talked my sister and brother in to trying it too. I already see a difference in my gums and mouth just after 12 days. Thank you for your daily info emails. I love them too."

- Marcia B.
Philadelphia, PA
"I have received my order and have been using it now for about a week. I can also tell a big difference in my gums. …Will definitely be buying more. Thank you."

- Kathy D.
Atlanta, GA
"Hi,
I have been on OraMD for over two months now. I just went to my dentist for my teeth cleaning appointment and they said they could see how much improvement there was in my gums. I was very pleased with this report, because even though I never miss my dentist appointments (twice a year) and have always brushed and flossed, I have not had a good report on my gums for the past two years. The dentist said they were a little redder than they should be …Your product is a little awkward to use at first, because you always use toothpaste and for the first 3-4 days it kind of feels like you are not cleaning your teeth properly. I don't mean that in a negative way, because my teeth felt cleaner, my mouth fresher than it ever did when I used toothpaste. But, what I mean, is that it is hard to break old habits and it was just very different using the oil versus toothpaste. I am very happy that I am using OraMD and I can see a big improvement in my gums.

I also have my sister and brother-in-law using it. I wanted to first see what my dentist said about my gums before I started sharing the info with others. I also ordered your whitening product and that is very nice too and very reasonable in price.

I just want to end by saying that I can't believe that the dentists do not promote this product or maybe they do not know about it? If something can work this good – why isn't it out on television commercials and in magazines so others can learn about it and enjoy the benefits it has to offer???? We need our teeth for a whole lifetime – I love how great my teeth and gums look right now. Thank you for inventing this stuff! "

- Marcia B., Philadelphia, PA
"I've now been using Oramd for, heck I can't remember how long, but I've been to the dentist twice since I started. Both times my dentist has told me how wonderful my teeth and gums look. This is quite a pleasant thing for me to hear because, I have always had reasonably healthy teeth and gums, but, I have a few fillings and have experienced sore bleeding gums at times. Since starting to use oramd, I have had no problems and my mouth feels healthy and fresh. I'm one of those people that my boss jokingly calls a dirty smoker, and I've found that my mouth is a lot less furry and my breath is definitely not that of a normal smoker. In a nutshell I'm most impressed and I will keep using Oramd for as long as I can afford to have it sent to me from way over there in America. Looking at the ingredients I can't quite understand how or why it works so well…all I can say is that from my experience it does work and it does so incredibly well. Thank you!"

Kind Regards
- Judith M., New Zealand
"Overall, I am quite impressed with OraMD. My teeth felt clean throughout the day and I didn't have to chew gum to freshen up my breath."

- Kait Baumgartner
Westfield, Indiana
"Thank you so much. I am seeing a great inprovement in my Gum problem. I tried so many other products before, but none never works as good as yours. I been using it for about two months now. I will keep you posted of more information. Thanks again and may God continue to Bless and use your company as a source of Oral healing. You are the best so far, keep up the good works."

Yours Sincerely
- Liz A.
Philadelphia, PA
"Yes, I did receive my order and most promptly. I love this product. I am a repeat customer and have now been using your product about 9 months. I absolutely love it. …Just thought you would like to know."

- Anita A.
Dayton, OH
"Thankyou for your prompt service I did receive my order and I'll let you know of my results in a couple of weeks. Also I want to let you know that ORAL MD is the best product that I have ever used, I don't suffer from mouth ulcers (Cankers) anymore I am addicted to the clean fresh feeling and will never use toothpaste again. My family are also using it and we are all happy with the results."

- Thanks Karin D.
Foster, Australia
"Dear Trusted Health Products,
I just want to tell you how much we appreciate your product, Ora MD! What a wonderful product. Our teeth have never felt better, EVER! And our daughter who was having a really terrible time with tooth decay has been problem free since she began using it last year. Even the hygienist asked for the info about it when she saw the difference it made. Up to that point I was told that it was just a fact of life that our 5 year old had an abundance of germs, and that the only remedy was LOTS and LOTS of flouride!!! This scared me to death and I am so very glad I searched the internet for some alternative and found YOU! THANK-YOU for selling ORA-MD! I wish other people would believe me when I tell them about it, but they seem to trust in flouride without question. I came up with a great slogan for your product this morning:
ORA-MD – Kills the Germs – That Causes the Plaque – That Hardens to Tartar – That Ruins the Teeth. – - – No Tartar, No Plaque, No Germs, NO PROBLEM!
Let me know if you could use my slogan. More people should know."

- Linda H.
Seattle, WA
"…Needless to say I use OraMD all the time. I never use any toothpaste with Floride. I buy most everything from my Health Food Store and catalogs. Thought you would like to know the results I have had. You can't beat success."

Very Sincerely
- Dawn A.
Los Angeles, CA
"After you get used to the strong scent and the tingling sensation you will feel when you start using OraMD, you will have some amazing smelling breath."

- Amanda Mae
Soddy Daisy, Tennessee
"…I will be ordering some more in the New Year as it is really good to use and my gums don't bleed now when I brush them – which they did every time before – plus I am spending longer on them and have invested in an electric toothbrush – still not going to stop smoking though!!! and no I don't want any whitener!!! : ) …(well not yet anyway!!)

I hope you have a lovely Christmas and will be ordering with you in the New Year!!"

Kind regards
- Julie F.
Phoenix, AZ
"Just a quick line to say hello and thanks for such a great product!! After using your product for just a short time, I have noticed a great reduction in the redness and the overall health of my gums. I will continue to use this product!! Thanks again and Merry Christmas!!!"

Thanks
- David W.
Portland, OR
"Bleeding of gums has diminished. I am now more relaxed
about my breath. Had a small travel break and used toothpaste and both gums and I hated it. Toothpaste irritated them and the texture of it in my mouth was just awful. My mouth didn't feel clean and it was abrasive. The drops are brilliant to use and the lingering freshness is reassuring. By no means am I out of the woods with the seriousness of my condition, however, …Toothpastes and mouth exploding intense mouthwashes made of God only knows that concoction of chemicals is definitely not the answer. I do believe these magic drops are."

- Christine C.
Santa Fe, NM
"I've used OraMD 3 months and since day one my teeth have felt clean and smooth. With toothpaste they were always still rough. No more. OraMD leaves my teeth feeling shiney and my mouth tingly and fresh."

- Dorothy W.
Bristow, OK
"I did receive the product, OraMD and it is truly wonderful. I was referred by a good friend of mine, and she and her husband just raved about it. Now I know why. It is just great. I am sure I will be reordering more."

Thanks again,
- Angela W.
Jacksonville, FL
"So far I am very impressed with this product. I have spent a fortune on my teeth and wish I had known about ORAMD years ago. Since I have been using this, my gums do not bleed, (for the first time every), …I am anxious for my 3 month checkup with my Periodonist in a couple of weeks."

Thank you,
- Sandra O.
Greensboro, NC
"I noticed a distinct difference in the way my mouth and teeth felt after brushing with OraMD…It feels like I just went to the dentist and had a cleaning and polishing. My teeth are smooth and my mouth feels dentist clean."

- Erica Barker
Columbus, Indiana
"I am pleased with the results so far. I definitely like your product much better than any toothpaste I have ever used. I also like the way you seem genuinely interested in your customers satisfaction."

- Larry K.
Los Angeles, CA
"Hi – just a comment on OraMD. I find it to be a great product. My gums feel much better. For the last two years my gums have been really really bad but feel so much better now. I use the OraMD about 3-4 times a day for the past few months. I love ice cream, but after eating it my gums would be so painful, but after using the OraMD I don't get that pain anymore. Its great. "

- Lynn A.
Pittsburgh, PA
"I have been usin Ora MD for about a month now. My gums are in pretty bad shape …So I started using this product and I was very glad I did! …breath were awful…a few weeks into using this …completely the bleedin occurs at times but not very often. …I plan to go see a dentist in a few months to check the progress. But my teeth are the cleanest they have ever been ,at one time I feared losing my teeth now I'm sure Ora MD will help save them this is an excellent product. If your feeling skeptical its ok I was too but which would u rather pay thousands of pounds or a few hundred over a longer period?"

- Chris A.
Salt Lake City, UT
"Hello there,
I am very satisfied with OraMD. When I first ordered it my gums were bleeding and in pretty bad shape. I've been using it just over a month and there has been great improvement. My gums do not bleed when I brush now and they look that healthy pink not red. Even my dentist commented on how good my gums look. I recommend this product to anyone who wants to keep their teeth."

Sincerely,

- Melina B.
Reseda, CA
"I have only been using it for about 6 weeks and have already gone thru a bottle – mainly due to the fact that my 10 year old son really like to use it. …I just reordered yesterday and got my son his own bottle with extras for the rest of the family. I have an electric toothbrush and maybe I am brushing my gums so I will try to be more aware when I brush. I will keep and eye on the progress and let you know…I have many friends who also are seeking alternatives to mainstream toothpaste and are seeking natural remedies. I will let them know about your product. When I did go to reorder yesterday , it did not recognize my email so I had to re-register…
Anyhow thanks and I look forward to seeing good things.
Have a great blessed day. "

- Julie B.
Portland, OR
"Just knowing that I was brushing with all pure ingredients and not putting chemicals in my mouth makes the product worth it to me. My cabinet is filled with all kinds of toothpaste, mouthwash, rinses, and breath fresheners. I am so excited to replace them all with one small bottle of OraMD."

- Lindsey Silvestrini
Beaumont, California
"I cannot say enough positive things about OraMD. I think it does the job it says it will do. I will not go back to using toothpaste. My niece has a two year old and wants to know how to administer the product to her daughter, so the taste is not too strong for her little mouth."

- Angela B.
Baltimore, MD
"I just wanted to share my experience using your product as I find it quite amazing. …My gums bled all the time and my teeth were quite sensitive. After the first month of using OraMD my bleeding subsided quite a bit. By the second month, I virtually have no bleeding gums.

Besides the stoppage of the bleeding gums, my teeth & mouth feel sooo much cleaner as well.!! I liked the product so much that I ordered some for my husband. He had always used mouthwash as he had trouble with bad breath. The other day he was brushing his teeth & he shouted out "this is great stuff".

We both went to have our routine teeth cleaning yesterday & I asked the Dentist if she noticed any change in my teeth. She said "there is a lot less plaque, what are you doing?" She then cleaned my husband's teeth & asked him if he was using the same product on his teeth as she noticed the reduction of plaque on him as well. We have actually both become addicted to it.

The thought of using toothpaste again just repels me. We no longer use mouthwash as it is just not needed. I now feel like my teeth are really being cleaned when I brush my teeth. "

- Barbara H.
Los Angeles, CA
"Yes I have received my order. And I must tell you that this product is nothing short of a miracle worker!! I noticed a change almost immediately. My family also noticed and that made me feel good. Finally a product that I can say that I "swear by it" I will use nothing else.
Thank You So Much.
Customer For Life."

- Emily M.
Tuscan, AZ
"I am very happy that I stumbled onto your ad for OraMD. In all honesty, I was skeptical at first but desperate to try something I could afford, to help improve …I've only been using OraMD for a little more than a month. I am very pleased with this product. Already I have noticed major improvements. My gums are no longer red or swollen and my breath smells great. I don't have to be self-conscious and stand back from others when talking to them. I am looking forward to even more positive results as I continue to use OraMD. I wish I had known about this product years ago. Thank you for providing a product that lives up to its claims. "

- Angela R.
Oklahoma City, OK
"Started using it straight away. I woulda thought that just 2 drops on ya brush wouldnt realy feel like a lot. Its wicked, certainly even feels a whole lot better, and fresher and seems like it leaves nice shiny, oily, sparkling layer over your teeth. Hope it helps my receeding gums and for sure i think im gonna be using this produt forever. Hope the results are amazing. I gave 1 bottle to my mum and one to my older sister and they are well happy with it as well so looks like i might be ordering a load more soon. Im gonna spread the word…Ora MD rocks.
Thanks a lot, I'll keep in touch. "

- Scott B.
Indianapolis, IN
"I love Oral MD-it has helped me tremendously …My teeth and gums do not feel clean if I use anything else but Oral MD!"

- Laurie K.
San Francisco, CA
"Although I don't have any gum issues, I do have a problem with getting canker sores often. Long before I solely used OraMD I had switched to a toothpaste that was sodium lauryl sulfate-free, which did help. It seemed to me that switching entirely to OraMD further lessened the amount of canker sores that I would get, but it didn't prevent all of them. Ones that did show up were cleared up pretty quickly, though."

- LUNA TASSIN
"I tend to get a little wordy when lauding the praises of something I support. That said, here is my story:
I hadn't been to a dentist for well over 10 years because of lack of finances, too many fears, etc. I brushed every day, but never flossed due to sensitive gums (I was a child with healthy gums when I had this problem). But when things got really bad and my gums swelled and bled a lot, …Before my initial visit to the dentist, I used a health product for gum disease that my mom bought from another company, and though it was good and helped alleviate pain/redness, etc-it was water-based, not oil-based, so didn't have the strong, lasting effects. Nor did it work as fast. Also it had goldenseal in it, so was dangerous to swallow, and there was a warning on the label not to do so. When I went to the dentist, I used everything she told me-special mouthwashes, toothpastes, etc-desperate to get my gums back to what they were, but nothing worked. After a search on the Internet, I came across a web page about OraMD, and read all the information, finding a link that took me to your site. Since I believe in health foods/products over that of scientific medicines-(I also take vitamin supplements/herbs/antioxidants, herbal teas, etc, so am a bit of a health nut)-I was more than ready to give your product a try and felt peace about doing so. …Here is a diary account of what has happened since using your product and nothing else.

1st day: I used it once at bedtime on the day I first received it in the mail-my initial use-and woke up to a healthy pink color under the center teeth of bottom gums toward lip where it has been red for at least 9 years, as well as pink along the gums where tooth meets the gum in many areas. I was floored to see what I did in the mirror. OraMD was very stout, as you warned, but I've endured far worse, and I was determined to see this through. With the amazing results from just one use, you couldn't have paid me to stop! I was finally, after years of desiring it, seeing my mouth return to normal.
)))) Also with each use, the aftereffects were a lasting clean feel in my mouth I never felt before-my mouth felt alive, better than when I had used Listerine even.

2nd day (when using it per instructions all day-as a paste, mouthwash, and topically applying it/putting it on tongue): woke up 3rd morning to find pink along gums all the way to top ridge,…-but these places were less red than day before, and the streaks above one tooth were also less red. A bump between my teeth, on the gumline (that appeared days before when I stupidly abraded my gum with my electric toothbrush in a desperate attempt to massage that area to get the red out) shrank in size. Also, since day one, my youngest son inhales deeply when I talk and smiles, saying how good my breath smells. I never suffered from halitosis, so this has been a real surprise he would notice a change. He never said that right after I used Listerine or ate strong breath mints.

3rd day: Gums are all pinker-firmer-all the way to ridge.
Fourth day: …now a darker shade of pink, but no longer red. Red streaks are much lighter-a dark pink-and narrower in size. In short, they are shrinking/ turning back to healthy color. …So far, I am astounded with the results of this product. I have no doubt that when I go for my next visit-which I'm postponing for 1 month to give this OraMD even more of a chance to work-my dentist will be very shocked and pleased. I'll let you know the report.
…You truly have a miracle product on your hands. God bless you for sharing it with the public, and at such a fair price. I no longer feel I have to spend so much of my hard-earned money in order to have healthy teeth and gums! …One last thing: At previous booksignings and writing conferences, I would try not to smile big around others, embarrassed with how bad my gums looked. Now I can't wait to flash my pearly whites again-and this is only the first week!
Bless you, bless you, bless you-I can't say it enough. "

*grinning wide from Texas

- Pamela G.
Hurst, TX
"With my dog Dizzie we have had a results. Almost immediately his horrendous bad breath seems to have disappeared. He doesn't like me trying to brush his teeth – his gums do look sore and bleed after just a little rubbing. But I'm going to persist for a week or 2. If we have a result boy am I going to be impressed.
When you get your new "stress" product ready could you remember to send me a "personal" reminder. I get 20/30 spam mails a day and most of them get dumped.
Best wishes and thanks again"

- Maggie M.
Miami, FL
"I ordered OraMD about 3 months ago and have used a little more than one bottle. I was VERY doubtful that it would make a difference in my gum problems. But, I used it faithfully at least twice a day, thinking that I did not have anything to lose since you offer a 100% money back guarantee. …I will continue to use OraMD, you can believe me! I have recommended OraMD to my friends and family also. "

- Yvonne B.
Stone Mountain, GA
"hi. wow, my best dental check up ever!! i am doing something different i thought i would tell you about.
i have an electric flosser. it has a plastic end that vibrates between the teeth. i have been dipping the end in the product and it is incredible. they couldn't even find plaque to scrape off my teeth!!
i have graduated to cleanings every 4 months instead of 3 …if things keep up, i will only have to go twice a year like regular folk.
i am bringing my dentist and my hygenist your product to see. they are amazed at my progress!
thanks soooooo much "

- Andie M.
Metuchen, NJ
"Just a quick note to tell you how much I love your product! It had been awhile since I had been to the dentist and I noticed my gums were becoming inflamed and swollen! I have had an ongoing problem with my gums because I have trouble flossing and caring for them as I should becomes of a disability I have which limits my mobility. I ordered your product and the first time I used it tasted bad! But then I read where that was to be expected and a sign of bacteria in the mouth. Now after 3 weeks the swelling has gone down, and I love the taste… I'm hooked and about to order more! I actually had my bottle misplaced for a day by some contractors working on my bathroom, and I was like a crazy man looking for my bottle of ORA md! I use it everday and will continue to do so. It's great and leaves my mouth feeling so clean and refreshed!"

- Thank You
Edmond R.
Sacramento, CA
"I love OraMD. Being able to take it with me and freshen up my breath whenever I need to is a plus. I don't plan on ever using a Tic Tac or Listerine again as long as I have OraMD."

- Jennifer Seigler
Graniteville, South Carolina
"DOES IT JUST KEEP GETTING BETTER??
After using your product only 3 weeks, the bleeding gums that I've "always" had are no more!!! Bad Breath… You've got no competition in this category!! "Stout" is a great description!! A Natural Product without the risks most of us are still exposed to just because another product was the first thing introduced to us. Change is good!!
I changed & I'll always use this product!! "

- Rick N.
Washington D.C.
"Hi there! I've never written about a product before but I feel that I MUST do so for this one! I am so thrilled! Where to begin…well when I ordered OraMD …my gums were so swollen and red and shiny and were always easy to bleed, even when I ate soft foods. …and all I can say now is WOW WOW WOW!!! …By the way, I have NO MORE BLEEDING when I brush my teeth let alone eat!! I'm amazed for a lack of better words. I get goose bumps when I look in the mirror and see my gums. I just shake my head. I go to massage therapy school and have been introduced to essential oils but I had no idea you could brush your teeth with them! Thanks a ton and I'll NEVER go back to toothepaste again!

It's funny, what prompted me to look for alternatives to toothepaste is that my daughter just turned 2 and I was concerned about using toothepaste with her and so I looked on the internet for an alternative and your webpage popped up.
Thanks again and I love the informational emails you send as well. Keep `em coming!"

- Jennifer M.
San Diego, CA
"I have to tell you this is amazing!
I have been using the ora drops for three days and my teeth are so white. Everybody notices how white my teeth are. I didn't expect to see results this quick but I did. My daughter who is 20 also tried it because her teeth were yellow. She went to work the next day and people noticed her teeth are whiter. I just want to thank you. I already see an improvement in my gums as well. I have really bad gums. This stuff is great! "

- Caren W.
Ft. Lauderdale, FL
"Well, I had absolutely no intention of leaving a testimonial, but due to your efficient follow-up process, I guess I feel compelled to at least tell the truth.

The stuff is gold. It has amazed me with how it controls ANY breath scent at all. I have tested it after eating the spiciest foods and even smoking cigarettes. More amazing is the fact that I've tested it BEFORE eating spicy foods or smoking, and it seems to coat the mouth with this minty oil that inhibits other scents from settling in. About 15 mins after a meal or a cigarette, my mouth feels minty again, believe it or not.

As for my teeth and gums, they feel microscopic clean, smooth, slick, like dirt or gunk would just slide off. It doesn't seem to form anymore, not that I can tell, really…crazy as that sounds. I never thought I had any gum problems, …I feel confident at all times about both my breath and the overall health of my mouth. The product is truly what it said it is. And more. Thank you. You've got a customer for life. "

- Christopher W.
Toronto, Ontario
"I have to say that this stuff really does work! I so wish I was able to take before and after pics but I don't have a camera! I have …and swollen bleeding gums on my bottom teeth and I can tell you that after only 1 and a half weeks of brushing only twice daily and an occasional drop or two on my gums during the day…My gums are no longer swollen and there is only a little bleeding at times but have only used for a short time so I can only imagine what it will be like a few weeks from now! I DO NOT use anything else whatsoever like recommended for this to work right. Now I will say that it was stout the first few days as stated it could be, but it was worth it! Now my mouth is used to it! I will not be without my OraMD from now on! Just LUVS IT!!! You have one more faithful customer right here!
Thanks"

- Victoria J.
Albuquerque, NM
"I have to say that after using OraMD for a week, wow, what a great product! My mouth felt so great and I felt very confident talking to people. I found that original toothpastes just didn't have that lasting effect that OraMD has. The other thing I love about this product is that it is all you need. You don't need to buy mouthwash on top of it."

- Narathip Wall
Abbotsford, BC, Canada
"I am here to tell you that ORAMD is a good product. It has ended my …strengthened my teeth, and helped gum bleeding."

Thanks,
- Brenda B.
Columbus, OH
"I have been using OraMD now for a month or so. Almost imediately the often bleeding gums has stopped. I am hoping it will help the moderate to severe perodonial condition. Can't wait till next check up, to see where that stands. I am satisfied sofar with using this product. The info on toothpaste was enlighting to say the least. "

- Richard C.
Toronto, Ontario
"The other one of us, has a problem with cold/canker sores. They crop up at the most terrible times (is there ever a good time?), and will show on the lips, becoming enlarged and hanging around for a week or more. Since the switch to OraMD, the occurence of cold sores has reduced to hardly any in the past 6 months, and the couple that have tried to form disappeared within a couple days, and remained small and undetectable to anyone else. THANK YOU FROM OUR FAMILY! We'll never go back to toothpaste!"

- The W-G Family
"I received your product (OraMD) today and can't believe how quickly it got here. Very impressed as I have ordered lots of things off the internet only to wait for weeks and weeks. I have already used this product and I swear I feel a difference already in my mouth. How this is possible I don't know. I have tried SO many products that are out there, only to toss them to the side. This is fantastic …I can't thank you enough for the quick service. I will be ordering from you again. Thank you!"

- Ann B.
Norfolk, MA
"Since I can't always brush my teeth at work, I rub a little OraMD on my gums, rinse and voila – nice, fresh breath!"

- Irene Gines
Nashua, New Hampshire
"Ora MD kicks ass. I set out looking for a toothpaste that would not creep me out with it's "whitening" effects, added calcium or lemon flavor or whatever else and also when i used to use regular toothpaste it seemed ultimately to be missing something–with Ora MD, the fresh happy mouth feeling I've been looking for is extreme and it lasts, which to me is miraculous. I don't see why anyone uses anything else to brush their teeth. it's the best! From the first time you use it, you get giddy cause it basically gives your germ infested mouth a true natural makeover. you feel better with fresh teeth!
…It's just awesome. "

- Carrie L.
Philadelphia, PA
"Thanks for your email. Yes, I have had a positive result from using OraMD. I had one area of concern (slight gum recession on just one tooth, my front tooth!). Since using OraMD the recession area is no longer aggravated or sore. The area looks healthier and the inflammation has disappeared. I will continue to use OraMD, knowing that it is having such a positive effect on my gums. The long term health of my gums and overall oral hygiene will be better for it! "

Thanks,
- Wonda J.
New York, NY
"Ora Md does seem to help. At least, the horrible taste in my mouth is nearly gone. I can't credit that to my dental work ( deep root cleaning) as I just had the first of two treatments for that this week. So,I do think it is the OraMd. I re-ordered a bottle so I can keep taking it until my dental work is done. …I have recommended OraMd to other people. Something sure made a difference for me, and OraMd was the only other thing I tried other than deep root cleaning."

Thanks,
- Kathy C.
Houston, TX
"My daughter Wendy told me about OralMd. She had found OralMD when searching on the internet to find something to help the chronic canker sores inside her mouth . . . whenever she would bite the inside of her mouth it would turn into a painfull sore. After she had been using OralMd for a short time the sores no longer materialized, her gums improved and she got a glowing report from her dentist about the lack of plaque on her teeth. It was after the dentist appointment that she felt confident enough about the product to recommend it. I have experienced the same results. It's true that the "stout" nature of the product was a bit off-putting at first, but after several weeks it's a pleasant and refreshing taste that I look forward to. This is a product that I can now confidently recommend. "

Thanks,
- Gloria Davis
Jacksonville, FL
"Hi my name is Wanda and I have been using oramd for 3 1/2 weeks. I have recession of gums in areas due to brushing my teeth to hard and using a hard bristle brush off and on during my adult life. I have switched to an electric toothbrush-soft bristles and using oramd 2 x day, with drops off and on all day, for the fresh taste. I can really tell a difference in my gums and teeth since using it. My gums are looking so much better, …and it is great not to have to worry about offending someone with bad breath. …Cannot wait to go back to the dentist and see what she has to say. "

- Wanda H.
Brooklyn, NY
"I have been using Oramd for about a month now, and the difference in my gums is amazing. ….My gums seemed to pour with blood every time I brushed my teeth. I couldn't afford the high cost of seeing the dentist and was terrified I was going to lose my teeth. I saw the ad for Oramd and decided to try it. I have to admit I was very skeptical. The first time I used it I hated the taste, it felt like it was burning my mouth, but I decided to persevere, I am so glad I did. Now my gums bleed much less, the bad breath I was suffering from is gone. …After using it for a few days I grew to like the taste of it (no more burning sensations) I now use it a few times a day to freshen my mouth/breath, as well as brushing with it twice a day. Thank you Oramd for saving my teeth. I will definitely recommend you to all of my friends."

- Debra I.
Ellabell, GA
""I have used OraMD as a toothpaste, as a mouthwash and also as a breath freshener. And if you use it before bed, guess what? You will not wake up with morning breath! I kid you not. I am hooked on OraMD – and you guys that follow my blog know I do not recommend a product that I don't completely believe in. This is a wonderful product that really does work wonderfully.""

- Valerie Wilson
Clifton Springs, New York
"After a pretty negative dentist visit I purchased Oramed. My gums …and I had a high amount of plaque.That was around 6 months ago. On my last visit the hygienistcouldn't believe improvement in my gums or the disappearance of plaque. From now on I will use Oramed and throw out my tube toothpastes. I'm convinced that your product saved my gums and teeth. "

Thanks,
- Bruce C.
Las Angeles, CA
"OraMD is the best stuff I've ever come across. …and very soon I saw and felt results. Now I use it all the time and gave a bottle to my daughter who loves it also. When I went back for my exam, my hygienest said …and my mouth looked fantastic! I think my teeth may have gotten a little whiter, but I drink coffee and colas and they are pretty yellow looking, but I'm sure it's helping. No more bleeding! Praise God for OraMD! I don't use toothpaste anymore at all. Oh, and no more bad breath!! which I believe is due to my professional cleaning to remove plaque, and OraMD!"

- Sue C.
Los Angeles, CA
"Thank you for your follow up. I'm please to let you know that I have received the product and have tried it right away. It is a little strong to start with but when I run my tongue around my teeth and gums after I finished with the brushing I feel the real different. I can tell that my teeth are clean and fresh and most important that I know my teeth, gums and mouth are protected by the OraMD."

- James B.
Ann Arbor, MI
"I can see now after one month of using oraMD that my gums are healthy pink, there is no bleeding whatsoever, my teeth do not feel loose at all and I can actually see more gum coverage over my teeth then when I first started using oraMD – so something is definetely happening – …
I will write back at the end of June to let you know what my dentist says! Thanks for your support! Also, how do we refer this product because I am sure he will ask me what I'm using!! "

Thanks
- Livia M.
Concord, Ontario
"Yes, I did receive my orders and I am already so excited because I'm seeing results so quickly!! My gums are beginning to be a noticeable pink rather than the shiny red on a couple of spots, breath is so fresh …Now I have more than hope. I'm watching this miracle happen. Every day I see improvement. I've even started my 3 year old grandson on it, so that he gets used to the strong taste (at first). All your claims have been true, at least for me. I am somewhat dazed by it all..This is the second product I have ever ordered that actually produced real results and I am so grateful to you for providing this caliber of service, but even more importantly, for offering what I now know to be a truly quality product. REMARKABLE!!
I cannot adequately express my thanks and gratitude to you."

- Mary E.
Conroe, TX
"I like OraMD and my teeth feel very clean. I use it twice a day. If you suffer from bad breath this would be very beneficial to you because of all the natural ingredients."

- Maria Gagliano
Greenwood Lake, New York
"I received the order very quicky and I'm extremely pleased with the product."

- Alex S.
O'Fallon, IL
"Hi. i thought i saw that you were going to lover the price??? i am recommending you to a friend. got raves from the dentist yesterday!!!!"

- Andie M.
Metuchen, NJ
"Thank you for your e-mail. I am a big fan of your product and recently ordered 2 bottles because I now begin to panic when I start to run out of OraMD and fear that I will run out before a new shipment arrives. I can no longer stand the taste of toothpaste and it feels so ineffective compared to your product. My gums are healthier, my mouth feels cleaner and fresher since I've switched. And I'm flossing more frequently because flossing no longer hurts my gums. Thank you,"

- Michael L.
New York, NY
"OraMD is becoming my go to oral care product. I suffer from sensitive gums and using this is really helping with my problem. I have tried everything – even oral prescriptions – nothing worked as good as this. I highly recommend this product to anyone who suffers from oral health problems or just looking for a natural and complete way without having to use different products. "

- JACQUELINE DIAZ
Amherst, Ohio
"I am not sure if you were the gentleman that I spoke with originally, but I called again just this past Monday. Scott was so nice as was the first person I spoke with. Lo and behold when I anxiously opened my mailbox, a cute little package appeared. I felt like it was Christmas. I was so excited that I couldn't wait to brush my teeth. One application and I have never felt so free in my life. If I can feel this good after years of having people back up when speaking with me, I am sold. I can't wait to wake up tomorrow just to brush my teeth and start a really fresh day for the first time. I feel like my life is about to change.
…I'm glad I found this wonderful product."

- Sharon Q.
Silver Spring, MD
"As a smoker I use it several times a day as a breath freshener. You might try to market it to smoker as a breath freshener, as it is unsurpassed. Thanks."

- Daniel H.
Cedar Creek, TX
"I've had great results since I've started using OraMd in January 2003. I had trouble with bleeding gums and ever since I started using OraMd, my gums are 100% better. It's an amazing product."

Thank you,
- Oscar G., Tuscan, AZ
"OraMD really does leave you with super-fresh breath. After I use it I feel like one of those commercials where the lady is blowing cold air and freezing everything with her super-sonic breath."

- Tiffany Christie
"I tested your product with National Health and Wellness and loved it. I want to order more and cannot find your web site or product on any web site. Please help – my gums and mouth need you!!! "

- Linda L. B.
Fort Worth, TX
"Doing quite well with the OraMD."

- John D.
Eugene, OR
"I received your order much sooner than I expected (Saturday 7th Feb). Considering I live near Manchester in the UK and I only ordered one bottle, then I have to say that your service is excellent. I thought it might take a good while, coming from the States. I hope to come back to you soon with some positive results. We'll have to see what happens. I must say, this stuff does make the mouth feel clean and fresh, I didn't find the first application "stout" (is this an American word meaning "overpowering" – in the UK one meaning of "stout" is a kind of heavy black beer, like Guinness
. If I have positive results, I will get back to you. "

Regards.
- Maeve A.
United Kingdom
"I received the ORAMD product last week, I am greatly satisfied with the product. I no more have bad breath, glum bleeding has reduced drastically in just 3 days. In short, it is working great. Thank you."

- Siscely J.
Vancouver, Canada
"I have to say – being a dental assistant for 10 years – I was a little skeptical about using OraMD but to my surprise the first thing that caught my attention was the fresh clean feeling it gives your mouth. After I used this product my breath stayed fresh for hours. I am in love with this and will definitely purchase more."

- Jennifer Miller
Brandon, Florida
"Thank you so much. I WILL be ordering again. I am telling others about your product. I like the way it tastes. I started using it immediately. It is a convenient size-just right for your pruse. Thanks so much again!! "

- Harriet J.
Winston-Salem, NC
"I was on a 3-month schedule for dental checkups. After improving my oral hygiene I was changed to every four months. I began using OraMD in November 2003. I had switched dentists because of insurance changes at work and so I was not able to get a before and after evaluation. But after using OraMD for four months I went to the new dentist and was told to return in six months. At my next visit I was told I had excellent oral hygiene. That was music to my ears."

- Judy H.
Schaumburg, IL
"I knew, when I first started using OraMD, that this was way better than any mouthwash on the market. Those brand-name mouthwashes only keep your breath fresh for about 10 minutes, then you're back to the same yucky cotton-mouth as before you used it. Not with OraMD! The very first time I used it, I drove 45 minutes to a mall and after walking around for a while, realized that my mouth still felt fresh and clean, and my breath was still minty! I also keep a bottle of OraMD in my purse, because 2 drops on my tongue will instantly kill the bad breath from any meal, and without the sugar of dinner mints. I'll never use anything else again!"

- S. White
Lowell, MI
"Oramd is very effective at combatting low carb breath with sometimes affects people on a low carbohydrate diet. It also helps supress appetite. I eat only once a day and have done so for two years. I have lost seventy pounds and still going. My whole digestive track from mouth to stomach is perfectly PH ballanced. Ora
md is a life style."

- Sigmund I.
Japan
"I love it! I will definitely be ordering more. I carry this one in my purse and will need an extra for home and 2 for my family. C. Brown will be ordering today or tomorrow. I am spreading the word. The flavor is not as stout to me as it would be to others, because I have become more familiar with natural, herbal flavors over the past 2-3 years. In fact, the flavor is quite pleasant and refreshing. It gives you a good morning "zing" and leaves the teeth feeling clean and invigorated. I really love this product. I apologize for not letting you know that I received the order. Have a wonderful day. "

- C. Brown.
San Francisco, CA
"I am quite impressed. It might be an idea to dispense the product in a micro-syringe so that the edges of the gums (and underneath) could be irrigated with the solution."

- Kent H.
New York, NY
"Hi, just wanted to say…thanks for the superfast shipping of this product, it arrived this morning, and I wanted to use it straight away! I can feel and see how clean my teeth are after just one use! So i cant wait to see the results after a few weeks!"

thanks again,
- Helen X.
"I was admittedly taken aback at first by how strong OraMD is – a few drops really packs a punch! But then I noticed how fresh my breath and mouth was afterwards. Later I tried a few drops on my toothbrush. You can also put a few drops in some water and swish and gargle."

- Susan Cook
Petersburg, Virginia
"It does leave a fresh feeling for quite a while. My 7yr old uses it too and likes it.
Thanks again and I look forward to purchasing more in the future."

- Julie B.
Las Vegas, NV
"I did what you suggested and my gums do feel much better, even after 1 day. I have abandoned the other products and have used OraMd a couple times yesterday and a couple today, and my gums are feeling really good. I am one person who thought would never have these problems. I think the problem is not brushing at night, allowing the bacteria to form. Anyway, I'll keep you updated if you are interested. Thanks again. "

- Matt E.
Austin, TX
"I have been using the oramd for two weeks and already see results …Thanks to oramd its working, my gums are not bleeding as much nor am I real sore in my gums. "

- Cinder G.
Lumberton, NC
"I love this product! Several years ago I was told I need extensive gum surgery, it only made the situation worse. I wish I had OraMD then. It has made all the difference in my dental hygiene. I have always had better luck with natural products and this is no exception. My teeth are whiter, my gums in better condition, and I have not had a cold since I've started using it. (This, after getting one repeatedly). I love the product and I love the service."

Thank you,
- Debra B.
Waterloo, IL
"I have been using OraMD for about three months and I love the product. I have lots of crowns and bridges and always dreaded going for my dental cleaning and checkups because of the pockets around my crowns,as well as my bleeding gums.

This product does excatly what it says it will do and lots more! My gums are pink and healthy and I do not have bleeding gums when I floss and brush.

Everyone should try this product…what do you have to loose? You will be so amazed with the results you get…healty gums, clean teeth, and great breath…just to name a few.
Now I don't dread my dental checkups and am anxious to see what my hygenist has to say on my next visit.I will never be without OraMD!!!"

- Ruth S.
Bristol, TN
"After using OraMD and following directions to a 'T' I was very satisfied with this product – it was like my mouth had seen the light! That led to the end of damaging toothpaste that is supposed to protect my mouth!"

- Sandra Sears
"Since using your product noticed great improvements in gums, less affected by bleeding of the gums due to sensitive teeth, have been using the product for 3 months and have definiely recommended it to friends."

- Michael M.
Onatario, Canada
"Thanks for a great product. That reminds me that I have to order again within the next day or so. Truly a great product that works!!!"

- Michael B.
Columbus, OH
"Just to let you know I am still using OraMD , I think my favourite reason for using this product is that once I have used it in the morning my teeth feel clean all day, my teehth are really important to as 7 years ago I had massive surgery including laser surgery on my gum line since using OraMD I really do not think I could revert back to messy toothpastes in the future, keep up the good work."

- Bobbi
United Kingdom
"My wife and I have been using OraMD for the past 6 months and will be reordering soon. We think it is so much better than toothpaste for good oral health. My wife thinks that it helps prevent soreness of the throat, from which she has suffered in the past. I have also seen a reduction in bleeding gums."

Regards
- Cecil R.
Brooklyn, NY
"I have been using ORAMD since June 2004. I am pleased and hoping that it is helping my receeding gums. My gums are not bleeding anymore when I floss and I think they look more pink. But I am not sure if I am making any head way on stopping my gum recession. Anyway, so far I am pleased and will continue to use the product."

- Elizabeth M.
Salt Lake City, UT
"Still the improvement was considered very good that the dental hygienist mentioned and noted the name of the product OraMD in my medical chart. Thanks to OraMD, a great product I could have regular cleaning done again with out any out of pocket expenses."

- Raman V.
Plano, TX
"I used your product once I am really convinced, it helps me a lot. therefore I ordered 3 more bottles this time. I am very happy, I came across your product."

- Manfred C.
"I am glad that there are alternatives to traditional toothpaste like OraMD that do not contain fluoride and other questionable ingredients. "

- Regan Shea
Thornton, Colorado
"I did order The Mouth Doctor, and it worked great on my mouth, so I told my son and gave him one of my bottles, He said it worked great and that his teeth didn't bleed any more so he has started to floss again. I also had two of my sister's try it and they also said it helped them."

Thank you.
- Fran L.
North Charleston, SC
"Thank you for your product. I have been having problems with my gums as long as I can remember, but after taking two bottles of your product, my gums have cleared up. Thanks are not enough."

- Mary, MD
"I was given ORA MD "The Mouth Doctor" by a friend because I had problems with my vocal cords, (Staying hoarse after speaking for several weeks). After I started using 'the mouth doctor' it wasn't long that I noticed my hoarseness was better. …After using this product through the fall of 2001 and also the winter and Spring, I have not had the first sinus infection that I normally get each year because of allergies. I know that the benefits of the 'mouth doctor' are for "healthy gums"

- Tony C., Pastor and Motivational Speaker
Tampa, FL
"I want you to know that I did receive my order and am using the product. I admit, I think I love this product. After only a few days I have noticed how smooth my teeth feel. I actually enjoy brushing my teeth because they feel so good when I'm done. It's nice to think that such a simple, natural formula can be the answer to persisting problems with my gums and teeth."

Thanks for now!
- Susan C.
San Francisco, CA
"It definitely made my mouth tingle. I did feel a little odd at first not to have foaming toothpaste, but I loved how fresh and clean my mouth felt after I rinsed."

- Belinda Burton
"I started with 2 drops of OraMD and worked up to 3 on my toothbrush. I didn't really need to use any more. I brushed my teeth and gums and my mouth felt clean, but I didn't have the freshened breath I wanted so I added a few drops of OraMD into a Dixie cup and added a few drops to the water. A little goes a long way."

- Joie Betterly
"I am using it every day since a week. It seems my gums don't bleed anymore."

Best regards
- Michel B.
Anchorage, AK
"My lovely husband and our 4 children that are over age 3 have been using OraMD daily and loving it! I think we are officially set on using the stuff for life!"

- KIM FOX
Greeley, Colorado
"Your order arrived last week, and is wonderful! My father purchased it for my mother who has very sensitive teeth. She likes it very much."

Thank you!!
- Rachel (for Robert A.)
Houston, TX
"…also the redness has gone and she feels her mouth to be a lot better. as for me i love the fresh feeling it leaves in my mouth .my gums also look alot pinker and feels just great, thanks again for such a fine product, i remain your friend and satisfied customer,"

- Ron J.
Tampa, FL
"…By the way, I was having problems with bleeding gums and I no longer have that. Thanks OralMD!!!!"

- Vilma D.
Fountain Hills, AZ
"This is not Gillian but her husband Paul,I will not be seeing my dental practitioner until July this year. However I was going to email you to let you know that

a) My gums do not bleed any more.
b) The bad breath that I had, from time to time, does not now occur.
c) The tartar build-up on my front lower incisors is greatly reduced and seems to be a lot softer and easily removed.

We are now just starting our third bottle of OraMD and have another 3 to go before we will be ordering more."

- Paul C.
West Midlands, England
"I noticed after 1 month of using OraMD my teeth no longer bleed everytime I brush my teeth, and two months into this I could drink an iced drink with no shooting pain! I have drank everything from coffee to iced drinks at room temperature for years because of the severe pain I experience, and if I am purchasing out at a store, I have to use a straw to keep the liquid off my teeth. However, now I can drink iced water or iced tea with no pain, and my gums are no longer stop-sign red. They are pink. Are you kidding me? A month ago, I cried when trying to eat a baby carrot because the pain was so bad, and just yesterday I ate carrots and homemade hummus! Now, I am no doctor, and I am not telling you not to use toothpaste. However, I am using OraMD because my teeth are stronger than they have ever been. Doesn't hurt that I am now able to drink an iced coffee, a personal favorite, either!"

- Allyson Bossie
Hurdle Mills, North Carolina
"When I recently had my teeth cleaned, my hygenist told me they were in the best shape she has seen them in since I have been her patient (which is about 3 years). …I told her I was using OraMD and asked her opinion on whether she though it had helped. She expressed some concern over it not haing flouride (big suprise…laugh out loud…) and stated since I had also whitened my teeth last August before I began using your product, that whiteneing does sometimes improve the enamal so not as much plaque adheres. She said I would know better by my next six month exam whether it was the whitening or the OraMD. In my opinion, however, it is the OraMD. My gums hardly bleed when she cleaned my teeth. She also commented on how much better I had been doing flossing- then I told her I haven't flossed in six months since my last exam! My gums no longer bleed when I brush them, they are a healthy pink instead of red, and I am VERY satisfied."

- Laura B.
Albion, IN
"I started using ORAMD in 2002 and found the results to be very satisfactory. I purchased ORAMD as I was experiencing bleeding of the gums when I brushed my teeth. After using the product for several days I noticed that the bleeding subsided. Also, it was very helpful with improving my breath. In fact, I was so satisfied that I would not hesitate to purchase the product again."

- Gordon J.
New York, NY
"I have had a longstanding problem with bleeding gums, bad breath….. Since then, I found OraMD. I just went to the dentist for a cleaning a couple weeks ago. It had been over a year since my last visit. I was apprehensive, since it had been so long, yet curious, as my gums had not been bleeding since shortly after using OraMD. My wife noticed my bad breath had disappeared. My dental hygienist began her cleaning, I noticed that she had effortlessly, and quickly completed the left side. She stopped, looked at me and said, I cannot believe how good your gums look, and how little plaque and tartar there is! She said it's been over a year since your last cleaning, and your mouth is the best I have ever seen. I told her about OraMD, and told her the website address. She quickly finished the right side, and said, I can't wait to get Dr, XXXXXXX in here so he can see this. Then in came my dentist, Dr. James XXXXXXX. He looked and was impressed. …He asked, tell me about this miracle potion. I gave him the website address. He said he would check it out. He wanted to do more research on your product before he could tell others about it, but he said, since you have already made the decision to use the product, and based on my exam, you should keep doing what you are doing."

- Mike M.
Santee, CA
"For the past year it's been necessary to have my teeth cleaned every 3 months just to try to keep my gums from getting any worse. From my appointment in January, 2002 to the appointment in April, 2002 it had become apparent it would be very difficult to just maintain the present condition of my gums, much less improve them.I started using OraMD in July, 2002.

At my next cleaning appointment in August, 2002 the condition of my gums had indeed improved from my previous appointment in April, 2002. I didn't have any bleeding for the first time ever. Also, the …had even improved. I mentioned to the hygienist that I had started using OraMD and felt it was helping keep my gums in better condition.The hygienist didn't make an official note of that in my record but we did discuss it. Dr. Leslie felt I had made progress and seemed pleased.

The only thing we discussed further was having fillings replaced. For various reasons I was forced to postpone my next cleaning visit until March 3, 2003. Even with waiting over twice as long between visits my gums were still being maintained in good condition and I had no bleeding. Considering the …I had when I first started going to Dr. Leslie, having gums in "good" condition is a miracle in itself.

I haven't used toothpaste but 3 or 4 times since July, 2002 and that was just when I ran out of OraMD. I can't imagine having to go back to that because even with a sonic toothbrush the toothpaste just wasn't providing the same results as OraMD."

- Kay G.,
Fort Worth, TX
"I only recently started taking Oramed and it truly did begin to work. I had badly bleeding gums to the point where I was frightened. Dentists are very expensive and I had not been able to go to one for years. Thanks to an inheritance I have been able to go to a dentist lately and have been getting treatment. I am in Canada so any statement I make about my dentist will not impact on your government rules.

However, I must say that the OraMD was the ONLY thing that helped with the bleeding gums. It significantly slowed down the bleeding and was great for leaving a super clean minty taste. I do feel that the use of Oramed helped with my gums …I am still using Oramed instead of my regular toothpaste as it seems to do a better job."

- Stephanie P.
Athens, GA
"OraMD naturally fights plaque and tartar as well as supports healthy teeth and gums without the chemicals – and it's cheaper than Crest Pro-Health products."

- Jennie Yuen
Vancouver, BC, Canada
"I am Imtiaz, I have started using ORAMD regularly twice or thrice per day, since the last 4 months, it has practically reduced gums bleeding to NIL. Brushing using ORAMD refreshes me very much…. "

- Imtiaz M.
Parsippany, NJ
"I do not have a dental provider all though i went to the dentist about 1 year , and everything was fine but i started useing the ormad product about 3 to 4 months ago and i can tell you this product works !!!! my gums are not red anymore and they do not bleed anymore this product not only helps your teeth and gum's but it will give you fresh breath, I plane on ordering more in the future."

- Danny B.
urora, CO
"By the way, I am in Germany with some of my students. One of them was having problems with canker sores… so I let him use my OraMD for a couple of days his problems cleared up in just a couple of days. Another of the girls was having mouth soreness so I told her to try the OraMD for a couple of days. Sure enough… she's good as new. So thanks for a product that works."

- Chuck
"Thank you for your product. I have been having problems with my gums as long as I can remember, but after taking 2 bottles of your product, my gums have cleared up. Thanks are not enough. "

- Mary A.
Myersville, MD
"Have only been using your product a week, but already my gums have a sense of wellbeing, like it's really helping. Thanks for making it available."

- T. T., FL
"I was very happy to see OraMD in my mailbox. I loved the smell of it as soon as I opened it. It smelled delicious and I could tell it was made from pure mint oils – peppermint and spearmint to be exact!"

- Valerie Cope
Temecula, California
"I have others who have purchased the product after letting them use mine. great stuff."

- Andie M.
Metuchen, NJ
"(OraMD) is quite refreshing. It did a good job cleaning my mouth. I also tried it as a mouthwash. It worked well. I could feel the tingling of the peppermint and spearmint oils on my gums and lips."

- Angie Beechan
"I have noticed that the plaque has decreased significantly on my teeth! My gums are feeling better too. This product came at just the right time for me. I was really worrying about my gum health and now I feel much better about my oral health! "

Thank you,
- Myra A.
CA
"I have been on your product for several weeks, my gums are looking better now and breath is much improved, thanks. Im just about to run out, so I will need to reorder."

- Dave M.
NC
"I've been using OraMD since mid August. The most noticeable change occured within the first 5 days when the discoloration which had been on my tongue for over a year disppeared as if by magic. My tongue has been pink and healthy looking since. "

- Anne B.
Charlotte, NC
"This product is great. I don't need toothpaste nor mouthwash. I use it twice a day and it freshens breath. Now I can't live without it. Never buying toothpaste/mouthwash again."

- LLF
"OraMD left my teeth feeling like I just came back from a cleaning at the dentist office. I have never gotten that from any other toothpaste before. I also had a cut on my gum. After just 2 days of using OraMD the cut was healed. I now use OraMD as part of my normal oral hygiene program."

- Katie Smith
Lone Tree, Colorado
"This was a recent purchase when I had surgery and a tube down my throat, resulting in a sore throat and possible infection. OraMD was the only thing that helped ease the sore throat! I could actually tell it was working. I recommend it for gums AND throat infections."

- P.Doering
San Diego, CA
"I was recently hospitalized for 6 weeks after a serious surgery. I was too disabled to get to a sink or even to brush my teeth over a basin brought to me. In this circumstance OraMD saved my gums. I applied it to cloth coated dental piks, and used that to clean and stimulate my gums for those many weeks. While hardly an ideal dental hygiene, it worked well enough that I had no gum problems once I was discharged, and I am convinced the OraMD was the reason for that."

- Name withheld by request
"Do you happen to have any other specials for OraMD at this time? I have used one bottle and broke my second bottle and all of its contents ran out. This product has been very helpful to me in getting my gums healthy again. There is a drastic change in the way that my gums look and feel and they seem to be much healthier after using one bottle of OraMD. Thank you!"

- Annell S.
Enid, OK
"YOU HAVE A GREAT PRODUCT. MY BREATH IS BETTER AND MY GUMS ARE NOT SWELLING LIKE THEY USE TO. I'M ALSO DRINKING TAHITIAN NONI JUICE WHICH IS HELPING MY IMMUNE SYSTEM AS WELL.. PLEASE VISIT MY NEW BUSINESS OF NONI JUICE DISTRIBUTION AT WWW.TAHITIANNONI.COM YOU CAN ACCESS BY USING MY ID NUMBER…..#1488422…..THANKS AGAIN FOR YOUR PRODUCT "

- Philip Z.
San Pedro, CA
"I started using ORAmd about two months ago. …My teeth feel much better and so does my mouth and breath. I haven't been to the dentist yet. …Meanwhile please send me two more bottles of ORAmd. It's good stuff."

- James B.
San Antonio, TX
"My parents were surprised by how much they enjoyed OraMD. My mom was a little hesitant at first to try because it was completely different compared to what she's used to with her regular toothpaste and mouthwash. She called me and exclaimed how she was so impressed with the spearmint-like taste and how it wasn't oily like she was originally expecting. She really enjoyed the polished feel of her teeth afterwards and the cool, refreshed feeling of her mouth that she described as similar to after you've had a mint in your mouth."


- Brandi Yee
"OraMD is an all-natural, 3-in-1 liquid product that can be used as a toothpaste, mouthwash and breath freshener. I love that this small, easy-to-carry bottle works for all of my mouth needs and it has 400 drops in it making it last a long time."

- Crystal Allen
"What a minty experience! I first tried OraMD as a toothpaste, using about 3 drops, and was surprised to find that my teeth were smooth, polished, and very clean! I can tell that the oil blend really reached down into the crevices between my teeth to cover all surfaces. "

- Samantha Buck
Plymouth, Maine
"I have want to tell you that using the product resulted in the cleanest feeling inside my mouth. I have been in need of extensive dental care but had to delay it because of a lack of insurance and funds. So my gums were a little"angry". I found that by using Ora-MD it really helped my gums be a little less "upset" and I will be continuing to use it for my dental care. I was quite pleased with the product."

- Jennifer W.
Gainesville, FL
"Really like the stuff. My mouth insists that I use it regularly. Teeth and gums are much cleaner and healthier. Wish I had it several years ago. Probably would have spare me some painful oral surgery."

- Andrew M.
Peoria, AZ
"I just got your product, and after only 4 days of use – my gums are looking so much better!!!
I take medication for seizures that also make my gums weak, so your product is a godsend! "

- Kevin B.
San Francisco, CA
"Overall, I am impressed with the results I am seeing with the use of OraMD and will continue to use it for my oral care needs. The liquid does not foam and that took me a bit to get used to. That was actually the selling point for my husband. Every time he brushes his teeth he gags on all of the foam. With this toothpaste, I haven't heard him gag or hack once! After years of listening to him gag daily, I am so happy he has found a product that works for him!"

- Theresa Mahoney
South Bend, Indiana
"I started using ORA MD about a month ago. A couple of drops on my toothbrush each time and a drop or two between brushings on the particularly bad gum areas. I quit using toothpaste altogether. I purposely delayed my next cleaning an extra month so I could get a test of how well, or not, the ORA MD would work for me. Well, today the hygienist and my dentist were both very happy with the condition of my gums! Believe me, that was a miracle for sure. For the first time in 2 years I had absolutely no bleeding! Previously I had a dark, purple area over a bridge that is now nice and pink. …

There was way less scraping that had to be done (thank God, cause that hurts!). I'm guessing here, but it seemed the actual cleaning of the teeth took approximately half as long as previous visits because I had less to scrap off! I was so surprised (not to mention, relieved) when the hygienist said she was done! The hygienist even agreed to a little longer time between cleanings. That never happened before and wouldn't have happened today if there had been the slightest problem. The fact that today it has been 4 months since my last cleaning instead of 3 was even more proof that something was going right in my mouth for a change!

So, I'm looking forward to continuing with ORA MD and at my next scheduled cleaning I expect even better results. I admit I was skeptical that anything could improve the condition of my gums, …but ORA MD has changed my mind and I'm so very thankful for that.

Thanks for a great product! I'll keep you posted on its continued success for me."

- Kay G.
Fort Worth, TX
"Since using your product noticed great improvement in gums, less affected by bleeding of the gums due to sensitive teeth, have been using the product for 3 months and have definetly recommended it to friends."

- M. Michaels
Ontario, Canada
"I really do enjoy using your prnduct ORA. It gives my mouth such a clean refreshing taste. I was so excited when I went to the dentist after using your product for 3 months , I had zero bleeding points!! That was the first time I had ever had no bleeding points. I especially like the fact that it is all natural with no chemicals or preservatives. If gives my mouth a fresh awaking feeling and I feel like I have not had bad breath since I have started using it. Its a terrific product and would highly recommend it to anyone. I gave it to my grandson and he smiled real big while using it to that pleasant surprising awaking feeling it gives. We both chuckled. Thanks for making a healthy tooth polish combination mouth wash!"

- Sue D.
Austin, TX
""WOOOOOWWWWZA! This stuff was spicy, which in my world, means stuff is working. OraMD cleaned my teeth and made my breath smell extra minty for twice as long as using ordinary toothpaste and mouthwash. And if you need to refresh later in the day, you can just put a drop on the tip of your tongue and work it around your gums. I am super impressed with this product because I honestly didn't expect these results!""

- Angela Bowers
Potterville, Michigan
"I followed the directions and brushed twice a day (morning and night) using 2-3 drops on my toothbrush. After rinsing with water, my teeth felt fresh and clean – and surprisingly polished and smooth. But then I really started to love the smooth feeling after each brush. I also used OraMD as a mouthwash – just 2-5 drops plus and ounce of water to gargle. It was so refreshing. It can be used as a breath freshener with just 2-5 drops on the tip of the tongue and rubbed on the gum line – which is perfect for keeping teeth healthy and fresh on the go."

- Tracey Black
San Diego, California
"I am really impressed by this little bottle of goodness! I have heard so much about the power of essential oils, but never really used any before in this manner. The spearmint and peppermint leave your breath feeling nice and clean, plus your teeth feel amazing. My husband tried this out and was amazed at the results too!"

- Chris Carroll
Atwater, California
"Thank you for a great product."

- James A.
San Diego, CA
"I received my order and am loving the product. …I am using as directed and really like the taste of your product. I have a dental appointment on August the 12th for a deep cleaning of the teeth, and gums, i will keep you posted on how the product is working. I hope my dentist will be as pleased as i am with the results that i am already seeing using this product.Thank's again for the great service i received my order on Wednesday, it was shipped from your place of business on Monday.I will keep in touch."

- Mel I., Simi Valley, CA
"I was expecting something akin to a toothpaste and was initially surprised at the strong taste, with no foam or bubbles one gets with a typical toothpaste. I stayed with it, and after a couple of days I was delighted. After brushing, my teeth feel clean and plaque free, and my mouth and breath feel clean and fresh. My gums are healthier and I'm confident that continued use of OraMD will help prevent gum disease. Thanks for a great product OraMD. "

- Gene D.
Lexington, KY
"I've been using OraMD for a couple of days now & I must say I love it! Your senses go crazy when you first open the bottle the cool smell of an almond, spearmint & peppermint mixture it just smells amazing. Then by adding a couple of drops to your toothbrush your mouth starts to water. You start brushing & OraMD the mouth doctor gets to work cleaning & freshening!
Its a clean feeling you'll just have to try to see for yourself."

- Chelsie Fletcher
Aurora, Colorado
"I like ORAMD's 5-step Oral Hygiene Program for 4 reasons: 1. it's strong, 2. it works fast, 3. its freshness is long lasting, and 4. it's made up of three of my favorite pure ingredients…100% natural almond, spearmint and peppermint oils! Well, all of that plus it saves me money!"

- Barbara Baker
Corpus Christi, Texas
"When I use OraMD in the morning it leaves my mouth feeling fresh and clean up until lunch time."

- Justine Caraway
Lebanon, Tennessee
"Having a dental background myself, I know the importance of having a clean, healthy mouth. OraMD gets between the teeth and in those hard-to-reach areas. After just the first use my teeth felt squeaky clean again."

- LORI WIESENBACH
McKees Rocks, Pennsylvania
"Received OraMD just one week ago. I'm using it myself and feel comfortable with it. But that is not the reason I am writing.

My 16 year old Norwich terrier Dizzie has had bad teeth and bad breath for at least 5 years. But he's too old to have anaesthetic apart form emergency situations so the vet can't help. So Diz has had to put up with …Until OraMD,

We've only used it for a week and already, with just a couple of tooth brushings a day, there are marked improvements. His smelly breath has disappeared and and his gums are getting lighter. I'm expecting even better results in the next weeks. I'm really happy to have discovered OraMD.

It's safe and it works. Thank you. For the first time I feel I can helpmy hound in his twiight years."

- Maggie F.
London, England
"Since using Oramd, my wife and I have both noticed improvements in our gums. …I am re-ordering the product because I am convinced that it is working for both of us, and I want to see how much improvement I can realize over a longer period of time. I've only been using it for a month and I can see a difference."

- Richard M.
Brooklyn, NY
"A little of this product really, honestly goes a long way. I really, really like the taste of it. It feels like a 'just went to the hygienist' type of clean after using this. OraMD really is a great product."

- Chantelle J. Shick
"I've been using OraMD for several weeks. My dental hygienist remarked on my most recent visit that my teeth and gums were very clean, …The appearance of my teeth has also improved. Plaque and stains are a thing of the past."

- Nate M.
Albany, NY
"OraMD is perfect to have on hand to kill oral germs during the day when you can't brush your teeth. When you use it your teeth feel clean, polished and beautiful. This is a product you must try for yourself."

- Lisa Conti
"I have been on the hunt for a toothpaste that doesn't have an FDA warning on the back of it. Something that is natural. When I used OraMD it was strong, but for the first time in a long time my mouth felt really clean."

- ALISSA APEL
Omaha, Nebraska
"Just 2 drops on my toothbrush instead of toothpaste twice a day and a couple of drops in a little water for mouthwash. And if I need a freshen up throughout the day a couple drops on my tongue to coat my teeth, gums and mouth. With their all-natural ingredients you know it's gotta be good for you."

- JESSICA COMPTON
Saucier, Mississippi
"Please send me 2 more bottles of OraMD. I have been using OraMD for the past month and after less than two weeks, my formerly red gums returned to a health pnk and my mouth tastes fresher. I have tried other products but none have worked as quickly and effectively as OraMD. Thank you for introducing this to me. "

- Darryl T.
San Diego, CA
"My wife and I went to our dentist appt, we both received our checkups …I ran into Ray my close friend, and he told me about a product called ORA MD. He showed me his teeth from using the product and I can tell you that I never seen such pink strong healthy gums and shinny teeth! I asked him to get me a bottle of the product …

So we acquired the bottle of ORA MD, and we both started to use the product, and we were both astonished after one week of usage of the product our gums were pinker than we ever seen before, …

The following week my wife had a follow up appointment with the dentist, he examined her gums and teeth and he remarked to my wife your teeth look great! …I wish I had more patients like you who have gums looking that healthy! From that day on we became believers of this product, not only is our gums healthy, but our teeth are whiter than before! I advise anyone to try this product, and I will guarantee you will also get astonishing results! "

- Sal & Barbara D.
Nashville, TN
"… Also, I like the way my teeth feel, clean and fresh, after using OraMD. Your product is great. "

- Bill G.
Cincinnati, OH
"I decided to test OraMD on my husband who suffers from horrible breath…Quite surprisingly it worked like a miracle…He rinsed his mouth out and his breath was pleasant and it lasted until we went to sleep. I honestly didn't expect it to work that well like it did."

- Ashley Drewes
Marrero, Louisiana
"This morning I gave OraMD a try. When I brushed my teeth there was no foaming at all like regular toothpaste. After I rinsed my mouth – wow! I just loved the fresh and clean feeling."

- SUELYN J-BROOKS
Grimsby, Ontario, Canada
""…if you want clean – let me tell you – your mouth definitely feels clean and immaculate. Whew! Breathe in and blow out! You have never experienced anything like this. I guarantee it. There are so many things I love about this product."

- Marie Moody
Batavia, Illinois
"Currently, I have been using OraMD – a multi-use product that has left me with the cleanest feeling mouth imaginable. Although I am lucky enough to not have any dental issues, I find that using OraMD is a great preventative measure."

- Sarah Rainwater
"I am having great results. I love how long my mouth stays feeling fresh. I normally lose that fresh taste within the first hour, but it usually lasts until I eat again with OraMD."

- Melissa Hanks
"I have always had problems with my gums bleeding. I go to the dentist every three months for cleaning and I always have bleeding. I have been using the Oramd for about 3 months and went for my normal cleaning last week. I had very minimal bleeding and the hygenist said my gums were the best they have ever been. They were nice and firm as opposed to the softness she usually finds."

- Andie M.
Metuchen, NJ
"I have been using OraMD for about six months now. For a while, I was using a combination of other products along with the OraMD; however with the combination I didn't see that great of results. Now I am just using the OraMD and the results are remarkable. Before using OraMD, my gums were red, swollen …Just after two weeks of using the OraMD by itself, my gums have stopped bleeding. They are starting to turn pink and …I highly recommend OraMD to anyone who is troubled with my previous problems."

- J.M. S.
Coral Springs, FL
"I have been using oraMd for a few weeks now and I do see improvement in my gums. I had bleeding gums from an allergy to certain toothpaste and that just about is gone. Teeth looking better and brighter. And they feel much better. Thanks and I'll order more when needed."

- Phil O.
Oakland, CA
"OraMD is very strong but I could feel the freshness in my mouth right away. I've been putting a few drops on my toothbrush to brush my teeth the last few days and it makes my teeth feel so fresh and clean."

- GLORIA McKELLAR
Sebewaing, Michigan
"I love all-natural elements and getting back to nature. It's fabulous to finally find something that works so well, is easy to use and tastes great. Can you say that your toothpaste only has 3 ingredients? I didn't think so."

- RACHEL MCGUIRE
Fair Play, Missouri
"This one little jar of product can change the way that you brush your teeth and will actually be better for you in the long run."

- MARY BEARDEN
Dawsonville, Georgia
"My gums feel healthier and look healthier. My teeth feel better and my mouth is not a huge bacterial breeding ground like it used to be."

- PAM MAYNARD
Alton, New Hampshire
"I like the convenience of using (OraMD) for my own mouthwash and coating the gums to protect them better so I do recommend the product to those who want an all-natural way to keep your mouth and breath fresh and clean."

- TOM SHEWBRIDGE
Brunswick, Ohio
"As I continue to use (OraMD) I have found that just one drop and a few drops of water on my toothbrush works best for me. I love that my teeth are clean and my mouth feels refreshed."

- STEPHANIE FATTA
Winston-Salem, North Carolina
"Fortunately, I was given a chance to try a product that has been creating a buzz online and amongst friends – OraMD. This is one item I can't go without. So glad I tried it."

- EIHDRA GATCHALIAN
Torrance, California
"I'm amazed at how clean feeling my teeth are. I use it to brush twice a day, carry some in my car to freshen breath as needed, and I love it."

- Libby F.
Santa Rosa Beach, FL
"I like how clean my teeth feel after brushing and how when I use it for a mouthwash that my mouth feels fresh for a long time. Great product!"

- Gloria L.
Ontario, Canada
"I heard about OraMD from listening to Super Human Radio and decided to give it a try. Shipping was exceptionally fast. After trying OraMD for the past month, I have to say my mouth has never felt this fresh. Unlike other dental products on the market, OraMD does not affect the taste of food after each use. I would highly recommend this product for anyone looking for an alternative to conventional toothpastes.
"

- Brandon P.
Dayton, OH
"A few weeks after using OraMD as instructed, I noticed my gums started looking healthier and I had fresher breath. I was very happy with the results. I love that it is a safer more natural alternative than the conventional methods out there."

- CRYSTAL ABEL
Ranier, Oregon
"I love using OraMD and I hope my dentist sees a difference at my next checkup."

- ALLIE FAULK
Spring, Texas
"I have always been obsessed with making sure my teeth were clean as well as not putting chemicals into my body. Now I have found the perfect product for that."

- SUSAN WHYTE
Fort Meade, Maryland
"I really liked how my mouth felt – cleaner and fresh. I truly think this product has a purpose in everyone's dental hygiene routine."

- TAMMIE PANKUCH
Carnegie, Pennsylvania
"After about a week of using this product I could tell a difference in my gums. They were no longer bleeding when I brushed my teeth. The sensitivity had decreased quite a bit as well. We were highly pleased with OraMD and would recommend it to anyone."

- ERIKA GILLIAM
Gordo, Alabama
"I could not believe how fresh my breath was. It was simply amazing. I now use it regularly and also use it for a mouthwash/rinse…the results are wonderful.""

- SALLY OWEN
Lockport, New York
"Do you have problems with bleeding gums, red gums, swollen gums, bad breath? The people at OraMD are so sure of their product that they tell their customers to use it for at least three months and then have their dentist evaluate the improvement in their oral health. Why not give it a shot?"

- MONICA LAVOIE
Bakersfield, California
"Many natural toothpaste brands have eliminated fluoride and SLS from their toothpaste formulas, however, OraMD has gone one step further – eliminating 'paste' altogether."

- LAURA HOLLOWAY
Thornhill, Ontario, Canada
"OraMD is more than just a toothpaste. It's a toothpaste, mouthwash and breath freshener. I like that it's actually a three-in-one solution."

- GENA LOZCANO
"I'm excited to see a natural alternative to toothpaste. OraMD uses natural ingredients, no fluorides, no GMOs or harmful chemicals…I was very impressed with the ingredients, the quality and how clean and fresh my mouth felt."

- Emilee Roberts
"If you want a healthy alternative to chemical laden toothpaste….look no further than OraMD….I will never use commercial toothpaste again."

- Raleigh W.
Naples. FL
"Wow, I was skeptical at first. After a few days of use, pure delight."

- Bob O.
Trenton, NJ
"The size is so confident to travel with."

- Kathllen L.
Calgary, AB, Canada
"I think it is a great product and would highly recommend it."

- Peter M.
Co.Tyrone, Northern Ireland
"It's the best natural toothpaste I have tried … ever."

- Linda S.
Largs Bay, SA (Australia)
OraMD is Offered and Endorsed by Dentists and Dental Hygienists in the USA and Abroad
| | |
| --- | --- |
| | "OraMD is 100% natural and the real benefit to patients is that it not only kills bacteria, but can replace toothpaste, mouthwash, and even breath fresheners. As a leading authority on dental wellness, I highly recommend OraMD. I can assure you, that if you use this natural product and follow the oral hygiene program in my book, you'll see significant improvements in your oral health. OraMD is the only oral care product I endorse." |
- Dr. Tom McGuire, DDS
Best Selling Author and World's Leading Authority on Preventive Dentistry.
| | |
| --- | --- |
| | "I highly recommend OraMD to anyone looking for a natural toothpaste, mouthwash and breath- freshener. This unique, 3 in 1 oral health care product is anti-bacterial and can help reduce the overall bacterial levels in the mouth – without harmful or toxic side effects. Whether you use it as a liquid toothpaste, mouthwash or breath freshener, what you will get is a very refreshing feeling." |
- Dr. Paul Rubin, Seattle, WA
"My patients love it. Because I'm concerned with every aspect of my patients' oral health I recommend natural and healthy oral health care products. I recently discovered OraMD and not only do I personally feel it is a great 3 in 1 natural product (liquid tooth paste, mouthwash, and breath freshener) but my patients love it."
- Dr. Euan Mackie, West Vancouver, British Columbia, CAN
| | |
| --- | --- |
| | "This is a welcomed and much needed product. I wanted to thank you for such a wonderful product in OraMD. You have provided for a healthy alternative for me to dispense to my patients. They love it and so do I. Not one patient that has tried it doesn't use and like it but when they return give it an astounding 'I love it'. As we know that is half the battle in oral health care…getting patients to use the product. With the positive research, great compliance, taste, and healthy alternative to unhealthy, abrasive, toxic over the counter dentifrices – this is a welcomed and much needed product. Thanks again!" |
- Dr. Nina Foley, Franklin, TN
"I am ecstatic with the results. I have used ORA MD's liquid drops for the past two years. I am ecstatic with the results, and pleased to recommend it to my friends, as well as to patients."
- Joyce, Dental Hygienist, Nevada
RESEARCH and STUDIES
New research study conducted at the Center for Oral Health Research at the University of Kentucky in Lexington, KY shows OraMD ingredients to have effective antibacterial activity against Gram positive and Gram negative oral bacteria. This suggests that the beneficial clinical effects in reducing periodontal inflammation may be due to the antibacterial effects of the oils.
Frequently Asked Questions (FAQ)
How is my order of OraMD shipped?
First Class US mail in a plain white box packed securely. All orders placed by 4pm EST Monday through Friday will be shipped out the same day, and all orders after 4pm EST will ship the next day. Friday orders after 4pm – up until Sunday night – will ship out on Monday.
Will you ship OraMD Next Day Air?
Yes, only in the USA. Orders for Next Day Air shipped on Friday will be delivered on Monday.
Do you ship outside the United States?
Yes, in fact a great deal of our customers live outside the U.S. Your order is shipped First Class Air Mail by U.S. Postal Service and usually arrives in country within 7 days. Delivery is usually with a day or two of that depending on customs with the country of delivery. The package is marked botanical oils for easiest customs clearance.
Does OraMD have a guarantee?
There is a money back guarantee for 1 year after purchase. Just return the unused portion, no questions asked.
How long does a bottle of OraMD last?
Depending on usage, usually 1-2 months, but each bottle can last approximately 3 months if you put two drops on your toothbrush and brush twice a day. Each bottle contains approximately 400 drops or 100 days worth of use. Many customers overuse because they like it, so your use may vary.
What is the shelf life of OraMD?
3 years unopened.
How do I use OraMD?
2-3 drops on your toothbrush and brush as usual. As a mouthwash, 2 drops in water and gargle. As a breath freshener, 1-2 drops on tongue and coat inside of mouth. To learn more about our easy-to-follow 4-Step Oral Hygiene Plan, click here.
Should I use my toothpaste or mouthwash with OraMD?
No, this product will work more effectively if you do not use toothpaste or mouthwash. Both toothpaste and mouthwash have warning labels on them due to the potentially harmful ingredients in them. Check out our free report.
Once I have reached my desired results, can I continue using OraMD?
Yes. Many of our customers continue using OraMD as a toothpast replacement because they like the fresh clean feeling it leaves in your mouth. Plus, it works great as a preventative.
Should I continue to floss when using OraMD?
Yes. Even though most if not all build up will disappear over time, we recommend always flossing before use of OraMD.
What type of toothbrush should I use?
Use a SOFT bristled brush only.
Can I use an electric toothbrush?
Yes, it is an excellent choice of practice. Be sure to only use a brush with nylon bristles, as cheaper plastics will sometimes not hold up to the potency of the botanical oils in OraMD.
I understand your product is all natural. Is that true?
Yes. OraMD® is all natural, 100% pure, botanical oils of peppermint, spearmint and almond and no additives of any kind. There are hundreds of varieties of these oils from all over the world and they all have different properties. This scientific formulation is designed to eliminate bacteria and pathogens and give relief from the causes of gum disease, gingivitis, bleeding gums and bad breath.
Are there any side effects from using your product?
There have never been any harmful side effects reported. We would suggest consulting your physician if you are allergic to peppermint, spearmint or almonds.
Is it safe to swallow OraMD?
Do not swallow. Use product only as intended by following included directions.
Will OraMD help my bleeding gums, plaque buildup, bad breath, gingivitis or gum disease?
Give OraMD a try. You have nothing to lose. If it does not work for you, you get all your money back with our no questions asked guarantee for one full year. To see what others have experienced which is a true indication of how you might benefit, check out our great testimonials and what other customers are saying.
Will OraMD whiten my teeth?
We suggest using our at home teeth whitening system or simply brushing with baking soda during your morning brushes.
What about fluoride?
We are not a proponent of fluoride usage. Please see our report on the 5 Hidden Dangers in Toothpaste. Or simply go to Google and search Fluoride Dangers, and you will quickly understand our position. Most city water supplies have ample amount of fluoride in them already.
COST COMPARE
Cost Savings:
You'll save 39% month-over-month compared to Crest Pro-Health, when you use the OraMD Starter Pack as a toothpaste, mouthwash and breath freshener.
PRICING
Choose Your OraMD Package Today, and Save up to 56% for a Limited Time:
OraMD Original Strength
Or, Upgrade to OraMD Extra Strength, a much more aggressive formula that helps to improve even the most stubborn gum problems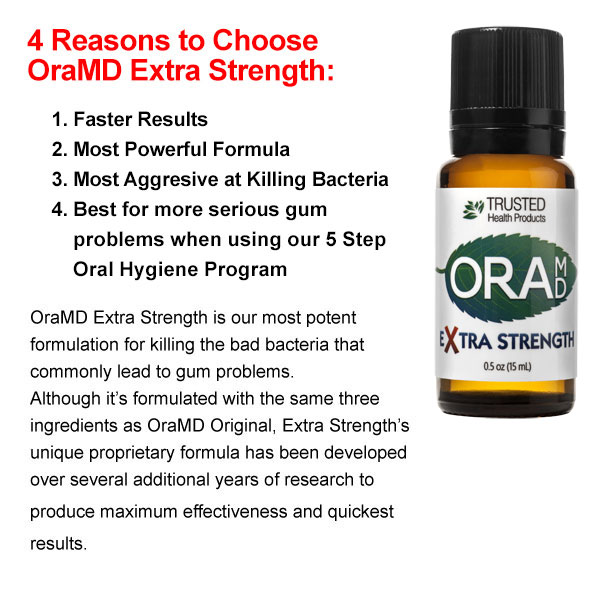 Your purchase comes with a 1-Year, 100% Money Back Guarantee
To Place Your Order Over the Phone, Call Toll Free, 24 Hours Per Day, 7 Days Per Week:
1-888-423-7500
International: 01-859-277-0000
Your information will be private and secure
In Stock. Order Today, Ships Today
(when you order by 3pm EST – ships from Lexington, KY USA)
Ships Worldwide.

Includes USPS Delivery Tracking #.


Shipping Transit Times:
Inside USA: Packages typically take 2-5 business days to arrive.
Outside USA: Packages typically take 7-10 business days to arrive.
Express shipping option is also available in checkout.

OraMD is manufactured fresh daily and ships 5 days a week from Trusted Health Products, Inc., a natural products company in Lexington, KY USA, with a 10+ year track record with tens of thousands of satisfied customers, and an A+ Rating with the Better Business Bureau.
Please Note: We offer Dr. McGuire's books, Healthy Teeth – Healthy Body & The Poison in Your Teeth, as free eBook downloads with this special online offer. However, during checkout, you will also have the option to receive the printed version of Healthy Teeth, Healthy Body (a small additional shipping & handling fee is charged). The Poison in Your Teeth is currently available only as an ebook.
*Orders placed by 3pm EST on weekdays will ship the same day. All other orders will ship the following business day.