OraMD – The Mouth Doctor
(149 customer reviews)
Fight plaque and tartar, eliminate bad breath, and support healthy teeth and gums…without the chemicals.
The Superior Revolutionary 100% Pure Liquid 3-in-1 Toothpaste, Mouthwash and Breath Freshener with Strong Antibacterial Properties
"OraMD is the only oral care product I endorse."
- Dr. Tom McGuire, DDS, Best Selling Author and World's Leading Authority on Preventive Dentistry.
Naturally fight gum problem-causing bacteria in 4 simple steps:
Brush, Floss, Rinse, Refresh.
Use as a 3-in-1 toothpaste, mouthwash and breath freshener
Recommended by Dentists Worldwide
Cheaper than Crest Pro-Health products – save up to 39%
100% Pure Ingredients killed Periodontal Bacteria in New Clinical Study
One Full Year, 100% Money Back Guarantee – No Questions Asked

In Stock. Same Day Shipping*
"You know what I love? When I am somewhat skeptical of a product, I try it and am blown away! That is exactly how I would describe my reaction to OraMD… I was instantly sold on this product."
-CARRIE WELLS, Ed.D.
Tamarac, FL
huppiemama.com
Click Here to Read More Reviews
"In just a few days, I found myself using this OraMD liquid toothpaste instead of the regular caulk-textured toothpaste products. This product has earned a permanent place in my home, and I think you'll feel the same once you try it."
-Mike Adams
"The Health Ranger"
Naturalnews.com
Click Here to Read More Reviews
FEATURES and BENEFITS
OraMD is the revolutionary, 100% pure and natural liquid toothpaste, mouthwash and breath freshener with ingredients that kill the 22 harmful bacteria that lead to gum disease and other oral health problems.
When combined with our 4 Step Daily Oral Hygiene Program (link to 4 steps tab), you'll be empowering your mouth with the best tools needed to regain and sustain your oral health.

Pure Ingredients – 100% Natural Almond, Spearmint and Peppermint Oils
Ingredients help create a healthy environment in your mouth
Has interdental access, so it gets in between your teeth and those hard-to-clean areas
Leaves a fresh and clean feeling unlike anything you've ever experienced
Ingredients polish teeth
Safe and effective for everyone ages 3 and up
May taste a little stout for the first 3-7 uses
Safe for braces, veneers, bonds, crowns, fillings and dentures
Also available in Extra Strength, a more advanced formula – Click Here to learn the difference between OraMD Original and Extra Strength
Faster Results
Most Powerful Formula
Most Aggresive at Killing Bacteria
Best for more serious conditions: Advanced Gum Disease, Periodontitis, Loose Teeth, etc.
convenient to carry in your pocket or purse, and can be used anytime to keep your mouth fresh and clean
Manufactured in the USA by Trusted Health Products
Vegan
Not tested on animals
One bottle lasts a month using our 4 step process (2 drops per application)
Quantity Discounts
Costs 39% less than other gingivitis-fighting products like Crest Pro Health toothpaste + mouthwash (based on OraMD Starter Pack
Using the OraMD 4-Step Oral Hygiene Program could prevent expensive oral care costs in the future
One Year, 100% Money Back Guarantee, no questions asked
Over 99% customer satisfaction
Ships same day if ordered by 3:00 PM EST, Monday – Friday
24/7 Representatives available to take orders over the phone – 1.888.423.7500
Main office customer service available 8:30am – 9:00pm EST (-5:00GMT), Monday-Thursday; 8:30am-5:00pm EST (-5:00GMT), Friday.
Cost Savings:
You'll save 39% month-over-month compared to Crest Pro-Health, when you use the OraMD Starter Pack as a toothpaste, mouthwash and breath freshener.
OraMD 5 Step Oral Hygiene Program
---
Step 1 – Brush twice a day in the morning and evening using 2-5 drops of OraMD on a toothbrush and brush normally. Do not swallow.
Step 2 – Floss every evening before brushing – more frequently as needed. Get any food particles out from between teeth.
Step 3 – Use OraMD as mouthwash twice a day: morning and evening. Just put 1-2 drops into an ounce of water, swish and gargle. This is important to kill the bacteria in the entire mouth including the back of tongue.
Step 4 – Mid-morning, mid-afternoon and as needed: put 1-2 drops on the tip of the tongue to coat the gum line and teeth to kill bacteria and keep breath fresh. Care Instructions: Avoid Eye Contact, Do not swallow, Do not use while pregnant or breastfeeding.
Step 5 – Follow the oral hygiene instructions provided by your dentist and hygienist, and have regular dental cleanings and checkups.
OraMD cleans and polishes teeth but does not contain a whitener. If you need to whiten your teeth, you may want to use baking soda and hydrogen peroxide 2 to 3 times per week. A whitening toothpaste can be used 2 to 3 times per week but because of the chemicals in toothpaste you need to rinse extremely well and coat gums with OraMD after any whitening.
OraMD is safe and recommended for children age 3 and older with no allergies to peppermint, spearmint and nuts. Start with 1 drop of OraMD diluted with 5 drops of water. Care Instructions: Avoid Eye Contact, Do not swallow, Do not use while pregnant or breastfeeding.
OraMD is strong the first several times you use it, this is the product working and this will subside. Keep OraMD out of direct sunlight and always put the cap back on after use to preserve potency.
If you use an oral irrigator, be sure to flush the irrigator with medium hot water for 20 seconds. Use nylon toothbrushes and avoid plastic toothbrushes. Avoid using foam cups – polystyrene plastics will not hold up to the menthol in this product
INGREDIENTS
Peppermint Oil
This 100% natural botanical oil is a proven natural combatant to many types of the bacteria in your mouth. Since OraMD is an oil, it does not dry out your mouth like toothpaste and mouthwash can because it is not alcohol based. The oil seeps between the gum line and attacks your bacteria even while you sleep and provides additional support to fight dry mouth. Dry mouth causes the bacteria to multiply at an accelerated rate and must be controlled for good oral hygiene.
Spearmint Oil
We use only the most potent and powerful species of all our botanical oils and our spearmint oil is no different. Like the peppermint oil, spearmint oil fights the 22 known harmful bacteria in your mouth, but when the two are combined they make a synergistic and powerful product.
Almond Oil
By using OraMD, with its almond oil you'll be allowing your mouth to have the bacteria control you need for your mouth to heal itself. Almond oil provides just the right base for peppermint and spearmint.
100% pure peppermint, spearmint and almond oil
Unique proprietary formula
OraMD's peppermint oil has potent anti-bacterial properties
OraMD's spearmint oil has potent anti-inflammatory properties
Flouride-free
Alcohol-free (alcohol is known to cause dry mouth)
Contains none of the harsh chemicals found in toothpaste
No abrasives like silica, found in nearly all toothpastes
No GMO's (Genetically Modified Organisms)
Highest quality ingredient sources worldwide
REVIEWS
I have been using oraMd for a few weeks now and I do see improvement in my gums. I had bleeding gums from an allergy to certain toothpaste and that just about is gone. Teeth looking better and brighter. And they feel much better. Thanks and I'll order more when needed.
Phil O., Oakland, CA
I have been using OraMD for about six months now. For a while, I was using a combination of other products along with the OraMD; however with the combination I didn't see that great of results. Now I am just using the OraMD and the results are remarkable. Before using OraMD, my gums were red, swollen …Just after two weeks of using the OraMD by itself, my gums have stopped bleeding. They are starting to turn pink and …I highly recommend OraMD to anyone who is troubled with my previous problems.
J.M. S., Coral Springs, FL
I have always had problems with my gums bleeding. I go to the dentist every three months for cleaning and I always have bleeding. I have been using the Oramd for about 3 months and went for my normal cleaning last week. I had very minimal bleeding and the hygenist said my gums were the best they have ever been. They were nice and firm as opposed to the softness she usually finds.
Andie M., Metuchen, NJ
…Also, I like the way my teeth feel, clean and fresh, after using OraMD. Your product is great.
Bill G., Cincinnati, OH
My wife and I went to our dentist appt, we both received our checkups …I ran into Ray my close friend, and he told me about a product called ORA MD. He showed me his teeth from using the product and I can tell you that I never seen such pink strong healthy gums and shinny teeth! I asked him to get me a bottle of the product …
So we acquired the bottle of ORA MD, and we both started to use the product, and we were both astonished after one week of usage of the product our gums were pinker than we ever seen before, …
The following week my wife had a follow up appointment with the dentist, he examined her gums and teeth and he remarked to my wife your teeth look great! …I wish I had more patients like you who have gums looking that healthy! From that day on we became believers of this product, not only is our gums healthy, but our teeth are whiter than before! I advise anyone to try this product, and I will guarantee you will also get astonishing results!
Sal & Barbara D., Nashville, TN
Please send me 2 more bottles of OraMD. I have been using OraMD for the past month and after less than two weeks, my formerly red gums returned to a health pnk and my mouth tastes fresher. I have tried other products but none have worked as quickly and effectively as OraMD. Thank you for introducing this to me.
Darryl T., San Diego, CA
I've been using OraMD for several weeks. My dental hygienist remarked on my most recent visit that my teeth and gums were very clean, …The appearance of my teeth has also improved. Plaque and stains are a thing of the past.
Nate M., Albany, NY
Since using Oramd, my wife and I have both noticed improvements in our gums…I am re-ordering the product because I am convinced that it is working for both of us, and I want to see how much improvement I can realize over a longer period of time. I've only been using it for a month and I can see a difference.
Richard M., Brooklyn, NY
Received OraMD just one week ago. I'm using it myself and feel comfortable with it. But that is not the reason I am writing.
My 16 year old Norwich terrier Dizzie has had bad teeth and bad breath for at least 5 years. But he's too old to have anaesthetic apart form emergency situations so the vet can't help. So Diz has had to put up with …Until OraMD,
We've only used it for a week and already, with just a couple of tooth brushings a day, there are marked improvements. His smelly breath has disappeared and and his gums are getting lighter. I'm expecting even better results in the next weeks. I'm really happy to have discovered OraMD.
It's safe and it works. Thank you. For the first time I feel I can helpmy hound in his twiight years.
Maggie F., London, England
I was expecting something akin to a toothpaste and was initially surprised at the strong taste, with no foam or bubbles one gets with a typical toothpaste. I stayed with it, and after a couple of days I was delighted. After brushing, my teeth feel clean and plaque free, and my mouth and breath feel clean and fresh. My gums are healthier and I'm confident that continued use of OraMD will help prevent gum disease. Thanks for a great product OraMD.
Gene D., Lexington, KY
I received my order and am loving the product. …I am using as directed and really like the taste of your product. I have a dental appointment on August the 12th for a deep cleaning of the teeth, and gums, i will keep you posted on how the product is working. I hope my dentist will be as pleased as i am with the results that i am already seeing using this product.Thank's again for the great service i received my order on Wednesday, it was shipped from your place of business on Monday.I will keep in touch.
Mel I., Simi Valley, CA
Thank you for a great product.
James A., San Diego, CA
I really do enjoy using your product ORAMD. It gives my mouth such a clean refreshing taste. I was so excited when I went to the dentist after using your product for 3 months , I had zero bleeding points!! That was the first time I had ever had no bleeding points. I especially like the fact that it is all natural with no chemicals or preservatives. If gives my mouth a fresh awaking feeling and I feel like I have not had bad breath since I have started using it. Its a terrific product and would highly recommend it to anyone. I gave it to my grandson and he smiled real big while using it to that pleasant surprising awaking feeling it gives. We both chuckled. Thanks for making a healthy tooth polish combination mouth wash!
Sue D., Austin, TX
Since using your product noticed great improvement in gums, less affected by bleeding of the gums due to sensitive teeth, have been using the product for 3 months and have definetly recommended it to friends.
M. Michaels, Ontario, Canada
I started using ORA MD about a month ago. A couple of drops on my toothbrush each time and a drop or two between brushings on the particularly bad gum areas. I quit using toothpaste altogether. I purposely delayed my next cleaning an extra month so I could get a test of how well, or not, the ORA MD would work for me. Well, today the hygienist and my dentist were both very happy with the condition of my gums! Believe me, that was a miracle for sure. For the first time in 2 years I had absolutely no bleeding! Previously I had a dark, purple area over a bridge that is now nice and pink. …
There was way less scraping that had to be done (thank God, cause that hurts!). I'm guessing here, but it seemed the actual cleaning of the teeth took approximately half as long as previous visits because I had less to scrap off! I was so surprised (not to mention, relieved) when the hygienist said she was done! The hygienist even agreed to a little longer time between cleanings. That never happened before and wouldn't have happened today if there had been the slightest problem. The fact that today it has been 4 months since my last cleaning instead of 3 was even more proof that something was going right in my mouth for a change!
So, I'm looking forward to continuing with ORA MD and at my next scheduled cleaning I expect even better results. I admit I was skeptical that anything could improve the condition of my gums, …but ORA MD has changed my mind and I'm so very thankful for that.
Thanks for a great product! I'll keep you posted on its continued success for me.
Kay G., Fort Worth, TX
I just got your product, and after only 4 days of use – my gums are looking so much better!!!
I take medication for seizures that also make my gums weak, so your product is a godsend!
Kevin B., San Francisco, CA
Really like the stuff. My mouth insists that I use it regularly. Teeth and gums are much cleaner and healthier. Wish I had it several years ago. Probably would have spare me some painful oral surgery.
Andrew M., Peoria, AZ
I have want to tell you that using the product resulted in the cleanest feeling inside my mouth. I have been in need of extensive dental care but had to delay it because of a lack of insurance and funds. So my gums were a little"angry". I found that by using Ora-MD it really helped my gums be a little less "upset" and I will be continuing to use it for my dental care. I was quite pleased with the product.
Jennifer W., Gainesville, FL
I started using ORAmd about two months ago. …My teeth feel much better and so does my mouth and breath. I haven't been to the dentist yet. …Meanwhile please send me two more bottles of ORAmd. It's good stuff.
James B., San Antonio, TX
OraMD is the best stuff I have ever used for my teeth! For years I had to deal with yellow teeth and bad breath. I constantly would have to floss more than once a day and chew gum to keep my teeth from getting yellow. I also had to deal with inflamed gums that have always been that way since I was a kid. I decided to try OraMD a month ago… I was hesitant to try OraMD because of the cost, since funds for me are not that great right now. But I managed to save a little cash and order it…Best 22 dollars I have spent in a long time! For the past 30 days I have not had yellow teeth once! I have not had to carry gum with me everywhere because my breath stays fresh for hours. Also the redness in my gums is finally starting to go down! I have thrown away the leftover toothpaste I had, and also thrown away those worthless fluoride loaded mouth rinses. I even use one to two drops of OraMD at times as a mouth rinse during the day at times and it works way better than anything else I have ever tried…If you haven't tried OraMD what are you waiting for???
If a broke guy like me can afford it anyone can.
Ricky S.
OraMD is Offered and Endorsed by Dentists and Dental Hygienists in the USA and Abroad
| | |
| --- | --- |
| | "OraMD is 100% natural and the real benefit to patients is that it not only kills bacteria, but can replace toothpaste, mouthwash, and even breath fresheners. As a leading authority on dental wellness, I highly recommend OraMD. I can assure you, that if you use this natural product and follow the oral hygiene program in my book, you'll see significant improvements in your oral health. OraMD is the only oral care product I endorse." |
- Dr. Tom McGuire, DDS
Best Selling Author and World's Leading Authority on Preventive Dentistry.
| | |
| --- | --- |
| | "I highly recommend OraMD to anyone looking for a natural toothpaste, mouthwash and breath- freshener. This unique, 3 in 1 oral health care product is anti-bacterial and can help reduce the overall bacterial levels in the mouth – without harmful or toxic side effects. Whether you use it as a liquid toothpaste, mouthwash or breath freshener, what you will get is a very refreshing feeling." |
- Dr. Paul Rubin, Seattle, WA
"My patients love it. Because I'm concerned with every aspect of my patients' oral health I recommend natural and healthy oral health care products. I recently discovered OraMD and not only do I personally feel it is a great 3 in 1 natural product (liquid tooth paste, mouthwash, and breath freshener) but my patients love it."
- Dr. Euan Mackie, West Vancouver, British Columbia, CAN
| | |
| --- | --- |
| | "This is a welcomed and much needed product. I wanted to thank you for such a wonderful product in OraMD. You have provided for a healthy alternative for me to dispense to my patients. They love it and so do I. Not one patient that has tried it doesn't use and like it but when they return give it an astounding 'I love it'. As we know that is half the battle in oral health care…getting patients to use the product. With the positive research, great compliance, taste, and healthy alternative to unhealthy, abrasive, toxic over the counter dentifrices – this is a welcomed and much needed product. Thanks again!" |
- Dr. Nina Foley, Franklin, TN
"I am ecstatic with the results. I have used ORA MD's liquid drops for the past two years. I am ecstatic with the results, and pleased to recommend it to my friends, as well as to patients."
- Joyce, Dental Hygienist, Nevada
RESEARCH and STUDIES
New research study conducted at the Center for Oral Health Research at the University of Kentucky in Lexington, KY shows OraMD ingredients to have effective antibacterial activity against Gram positive and Gram negative oral bacteria. This suggests that the beneficial clinical effects in reducing periodontal inflammation may be due to the antibacterial effects of the oils.
Frequently Asked Questions (FAQ)
How is my order of OraMD shipped?
First Class US mail in a plain white box packed securely. All orders placed by 4pm EST Monday through Friday will be shipped out the same day, and all orders after 4pm EST will ship the next day. Friday orders after 4pm – up until Sunday night – will ship out on Monday.
Will you ship OraMD Next Day Air?
Yes, only in the USA. Orders for Next Day Air shipped on Friday will be delivered on Monday.
Do you ship outside the United States?
Yes, in fact a great deal of our customers live outside the U.S. Your order is shipped First Class Air Mail by U.S. Postal Service and usually arrives in country within 7 days. Delivery is usually with a day or two of that depending on customs with the country of delivery. The package is marked botanical oils for easiest customs clearance.
Does OraMD have a guarantee?
There is a money back guarantee for 1 year after purchase. Just return the unused portion, no questions asked.
Do you provide any OraMD discounts?
Yes. Our volume discounts mean that when you order more than 1 bottle you save quite a bit of money. See chart below:
1 bottle – $22.97
3 bottles – $56.97 (save $11.94)
4 bottles – $69.97 (save $21.91)
7 bottles – $99.00 (save $61.91)
How long does a bottle of OraMD last?
Depending on usage, usually 1-2 months, but each bottle can last approximately 3 months if you put two drops on your toothbrush and brush twice a day. Each bottle contains approximately 400 drops or 100 days worth of use. Many customers overuse because they like it, so your use may vary.
What is the shelf life of OraMD?
3 years unopened.
How do I use OraMD?
2-3 drops on your toothbrush and brush as usual. As a mouthwash, 2 drops in water and gargle. As a breath freshener, 1-2 drops on tongue and coat inside of mouth. To learn more about our easy-to-follow 4-Step Oral Hygiene Plan, click here.
Should I use my toothpaste or mouthwash with OraMD?
No, this product will work more effectively if you do not use toothpaste or mouthwash. Both toothpaste and mouthwash have warning labels on them due to the potentially harmful ingredients in them. Check out our free report.
Once I have reached my desired results, can I continue using OraMD?
Yes. Many of our customers continue using OraMD as a toothpast replacement because they like the fresh clean feeling it leaves in your mouth. Plus, it works great as a preventative.
Should I continue to floss when using OraMD?
Yes. Even though most if not all build up will disappear over time, we recommend always flossing before use of OraMD.
What type of toothbrush should I use?
Use a SOFT bristled brush only.
Can I use an electric toothbrush?
Yes, it is an excellent choice of practice. Be sure to only use a brush with nylon bristles, as cheaper plastics will sometimes not hold up to the potency of the botanical oils in OraMD.
I understand your product is all natural. Is that true?
Yes. OraMD® is all natural, 100% pure, botanical oils of peppermint, spearmint and almond and no additives of any kind. There are hundreds of varieties of these oils from all over the world and they all have different properties. This scientific formulation is designed to eliminate bacteria and pathogens and give relief from the causes of gum disease, gingivitis, bleeding gums and bad breath.
Are there any side effects from using your product?
There have never been any harmful side effects reported. We would suggest consulting your physician if you are allergic to peppermint, spearmint or almonds.
Is it safe to swallow OraMD?
Do not swallow. Use product only as intended by following included directions.
Will OraMD help my bleeding gums, plaque buildup, bad breath, gingivitis or gum disease?
Give OraMD a try. You have nothing to lose. If it does not work for you, you get all your money back with our no questions asked guarantee for one full year. To see what others have experienced which is a true indication of how you might benefit, check out our great testimonials and what other customers are saying.
Will OraMD whiten my teeth?
We suggest using our at home teeth whitening system or simply brushing with baking soda during your morning brushes.
What about fluoride?
We are not a proponent of fluoride usage. Please see our report on the 5 Hidden Dangers in Toothpaste. Or simply go to Google and search Fluoride Dangers, and you will quickly understand our position. Most city water supplies have ample amount of fluoride in them already.
PRICING
Choose Your OraMD Package Today, and Save up to 56% for a Limited Time:
OraMD Original Strength
Or, Upgrade to OraMD Extra Strength, a much more aggressive formula that helps to improve even the most stubborn gum problems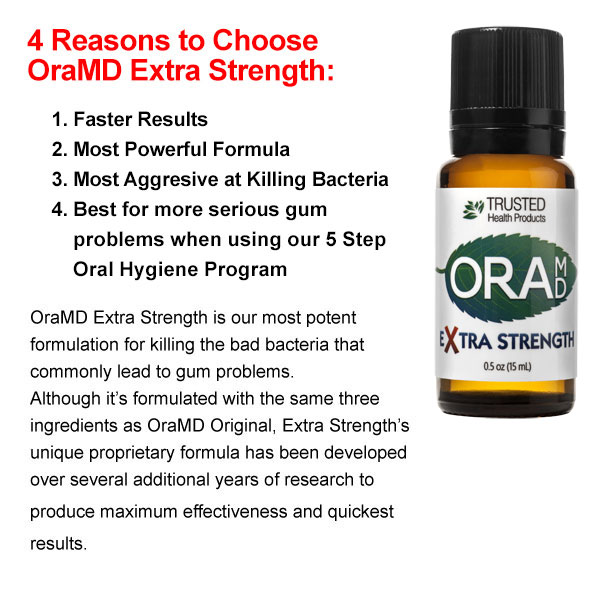 Your purchase comes with a 1-Year, 100% Money Back Guarantee
To Place Your Order Over the Phone, Call Toll Free, 24 Hours Per Day, 7 Days Per Week:
1-888-423-7500
International: 01-859-277-0000
Your information will be private and secure
In Stock. Order Today, Ships Today
(when you order by 3pm EST – ships from Lexington, KY USA)
Ships Worldwide.

Includes USPS Delivery Tracking #.


Shipping Transit Times:
Inside USA: Packages typically take 2-5 business days to arrive.
Outside USA: Packages typically take 7-10 business days to arrive.
Express shipping option is also available in checkout.

OraMD is manufactured fresh daily and ships 5 days a week from Trusted Health Products, Inc., a natural products company in Lexington, KY USA, with a 10+ year track record with tens of thousands of satisfied customers, and an A+ Rating with the Better Business Bureau.
Please Note: We offer Dr. McGuire's books, Healthy Teeth – Healthy Body & The Poison in Your Teeth, as free eBook downloads with this special online offer. However, during checkout, you will also have the option to receive the printed version of Healthy Teeth, Healthy Body (a small additional shipping & handling fee is charged). The Poison in Your Teeth is currently available only as an ebook.
*Orders placed by 3pm EST on weekdays will ship the same day. All other orders will ship the following business day.